Roi Gal-or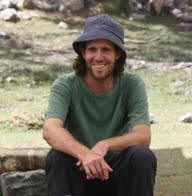 Biography
Roi Gal-Or is a Director of the International School of Storytelling based at Emerson College, as well as teaching storytelling at the University of Sussex in England. He is a leader of international workshops dealing with group and personal development using stories, social games and biographical work. Roi is one of the organizers of the "Gate to Humanity" Peace festival. This festival addresses the conflicts between race and religion in the middle east through creativity and the striving to find that which is truly equal and human in each of us. Read more at www.schoolofstorytelling.com
Workshop: Story Telling
What is the relationship between your life now and the stories and myths from the oral tradition of the past?
How can stories serve the communities and environments in which we live and work?
What is the role of the storyteller and the power of the spoken word when the warmth of human encounter is often replaced by digital communication?
In this block course we will deal with these questions as well as explore The craft of the Storyteller. Using biographical and traditional stories, you will learn how to use your voice, gesture, movement and audience awareness to bring your stories to life.