Calle Rehbinder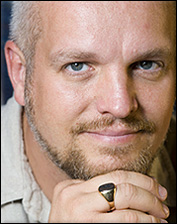 Calle Rehbinder is an actor, director, storyteller, artist, illustrator, graphic designer, photographer, author – as well as a teacher of many a subject – from theater improvisation and shamanistic techniques to web design, graphic design and art, into love, relationship, sexuality and tantra.
The most important part of Calle's work today is undoubtedly the teaching. The workshops about Love, Relationship, Sex, Tantra – how to live, breathe, play, touch and exist, in total presence.
With a little push from his friend Ylva Franzén, the most respected and well-known sex educator in Sweden, Calle started a men's workshop in sex, love and relationship in 2003.
Very soon after that, Calle's wife Jennie came into the teaching, and since 2004 they teach together, first of all through their love workshops. Now Calle and Jennie has arranged more than 70 tantric love workshops of many different sorts, with hundreds and hundreds of participants – and the response is always amazingly positive.
Calle is a very appreciated teacher, which ever subject he gets into teaching. With his enormous curiosity and ability to learn, and his storyteller skill to pass it on, combined with a large sense of humour, warmth and feeling for people, and dedication to the subject, he does not leave his audience unmoved.