Dear Friends of YIP,
The trees are coloured in all different shades of yellow, brown and red, and some have already lost their leaves. A swim in the fjord is being reduced to a hesitant dip in the cold water and more and more often we find the ground frozen when we wake. The days are getting shorter, the stars are becoming more apparent, and eight weeks into the year we have come to the end of the Global Realities block. After a well-deserved autumn break, we will move into the Inner Awareness block.
In this newsletter, Noam will take you on her journey of questions inspired by the week about Being Human in a Technological Age. For the first time you will get to experience Soma and Séve's HoneyPotcast on the week about Values and Economics. Luna shares what the course about War and Conflict moved in her. Lastly, Soetkin tells us about her experience of the Art of Hosting week.
Love, Dajin and Tessa
In this newsletter you will find:
– Being Human in a Technological Age written by Noam Marei Hitsch
– Values and Economics by Séve Berrier and Soma Baker
– Beyond Narratives: War and Conflict written by Luna Arteaga Laak
– Art of Hosting and Harvesting Conversations that Matter written by Soetkin Galle
– ABC poem by Noam Marei Hitsch
Being Human in a Technological Age
– with Dr. Gopi Krishna Vijaya and Elias Romualdez –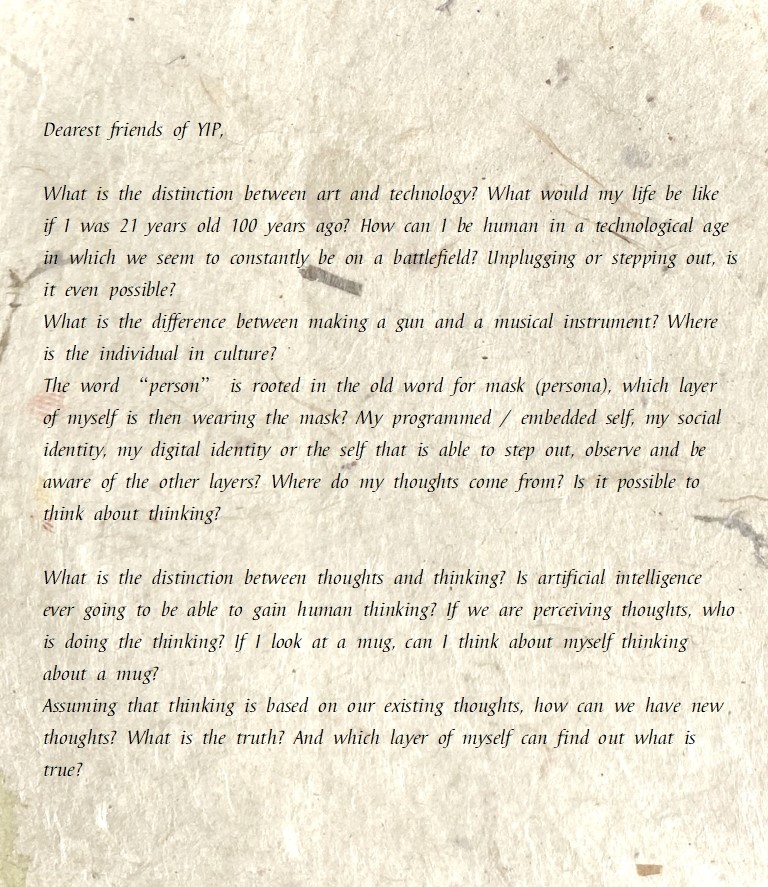 Values & Economics
– with Theo Fischer and Sari Escribano –
Welcome to the HoneyPotcast. The Honeypot is a Yipcast where we focus on further digestion and discussion of the week's course, as well as create space for hearing and discovery about our contributors' personal muse and journey. For this episode we were joined by Theo Fischer and Sari Escribano in the "Values and Economics" course. In this episode we explore some ideas brought up in the course, such as the GDP, and the use of DISCOS. We also delve deep into imagination, as we explore potential events such as a worldwide black out, and the futures that could arise from the darkness.
by Sève Berrier and Soma Baker
Beyond Narratives: War and Conflict
– with Christianne Aikins and Ramsay Boley –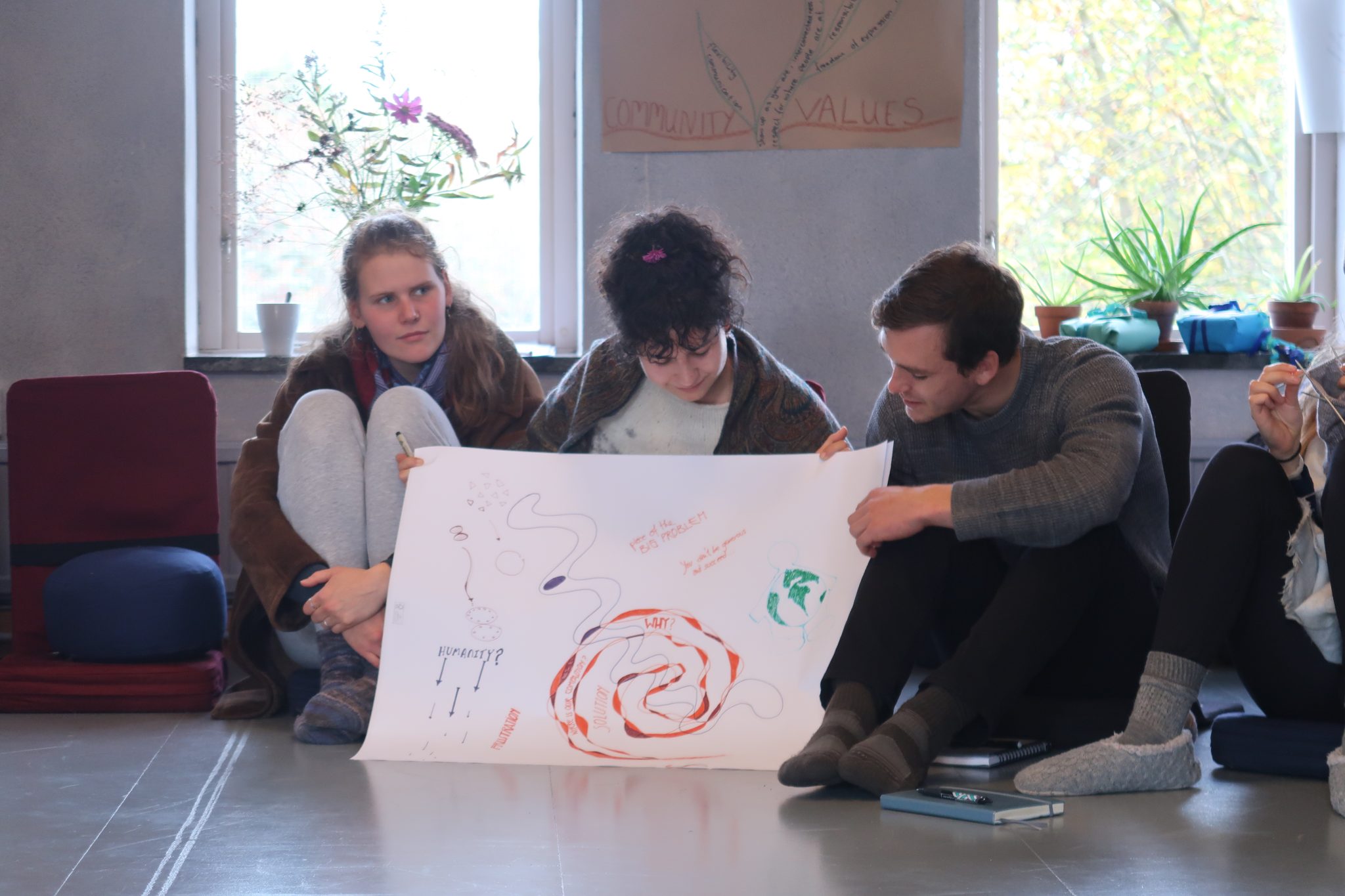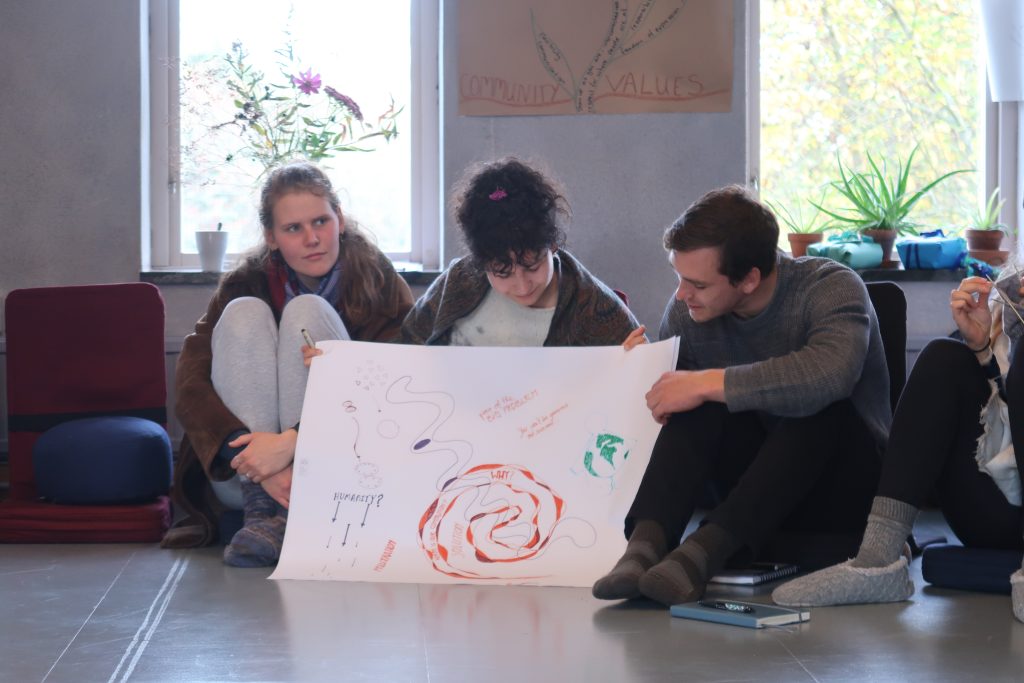 What comes to mind when you hear the word conflict?
Where does that word land in your body?
Does it cause your toes to curl in discomfort and your shoulders to draw up?
Do you feel open when you think of conflict, ready to meaningfully engage?
Conflict often has a negative emotion or connotation attached to it, and sometimes those feelings are valid. But conflict can also be an opening, an engagement with someone that can cause a new horizon to be born.
During our war and conflict week with Christianne Aikins and Ramsay Boly we were presented with an opportunity to think about and engage with our narratives around conflict in a different way.
At the beginning Ramsay gave us a quote- "conflict is the spirit of the relationship asking itself to deepen – Malidoma Somé" I felt those words deeply. I think often the narratives we hold around conflict are damaging to the conflict itself. If we think and believe that conflict is something solely destructive and damaging then it leads us to want to avoid it. But avoiding conflict is rarely a healthy way to navigate a hard situation. So, by reframing the narrative there is the space and tools to engage in a meaningful and productive way.
We also learnt about restorative justice which is an indigenous practice that has been adopted into wider society recently. It is a process and a framework through which we can shift our justice practices from ones centered on punitive justice which can often be dehumanizing to ones centered on people and dialogue. I found the framework of restorative justice to be very hopeful. It kindled a spark of possibility in me that there are landscapes yet to be traversed that can restore some humanity in our systems of power.
Written by Luna Arteaga Laak
Art of Hosting & Harvesting Conversations that Matter
– with Stephanie Blake, Mette Lindgren Helde, Emilia Rekestad, Mansi Jasuja, Isabel Chender, and apprentices Felix Bruns, Priska Lang and Charlotte Griestop –


"For the Art of Hosting week we were joined by eight contributors. The week was extremely busy and full: we had courses in the morning as well as afternoon coaching sessions, and on top of that we were preparing for the sessions we hosted ourselves.
We learned about the "eight breaths of design": The call, clarify, invite, meet, harvest, act and reflect. Something that comes to mind now is the part about decision making and celebration. Decision-making is often quite hard for me and I never really celebrate my decisions so I would like to include that in the future.
There was a session on the "four levels of listening" that I found interesting. It made me think about what it means to truly listen and how we listen in a conversation or how I want to listen and/or react. We practiced four ways of being in conversation with someone, starting our sentence with a certain prompt:
first: "the truth is…"
second: "in my opinion…"
third: "in my experience…"
fourth: "what I see happening in the space between us is…"
I noticed that the first two prompts really closed me off from the other person, you're only listening to yourself. The third prompt felt more truthful because you talk about your own experience. What I noticed with the last prompt is that everyone gave their partner a hug afterward, so I guess that one creates connection.
It was interesting and exhausting to change roles between hosting and being hosted. I felt very proud whenever I got hosted by my fellow-yippies. They all did such a good job in using their creativity and trying things out while standing in front of a big group.
With a few other Yippies I hosted an "Open Space", which I think is an awesome method for working with groups. A few people can host a session and others can either join, try out different sessions or 'pause'. What I really like about the Open Space is that it tunes in to what is needed in the group at that moment. During our Open Space there was a conversation about alcohol use, a game of hide and seek, a massage-session, a frisbee game, poem-writing and a biographical sharing. There was so much energy in the room afterwards!
So, now I think about it, let this be an invitation to tune in with what you need right now. Maybe you're reading this letter while already sitting behind a screen for a little while and maybe your body really wants to move! (If so, stand up and have a little dance! No, you should choose yourself. I won't tell you what to do. But still, dancing is nice in my opinion).
I learned a lot this week. Things like "never host alone", "speak and listen with intention" and "having a powerful question" are a few practices that I hope will stay with me. At the end of the week we were asked what we want to include in our practice for the future. My hope is to play more and engage with my weird side 🙂
Written by Soetkin Galle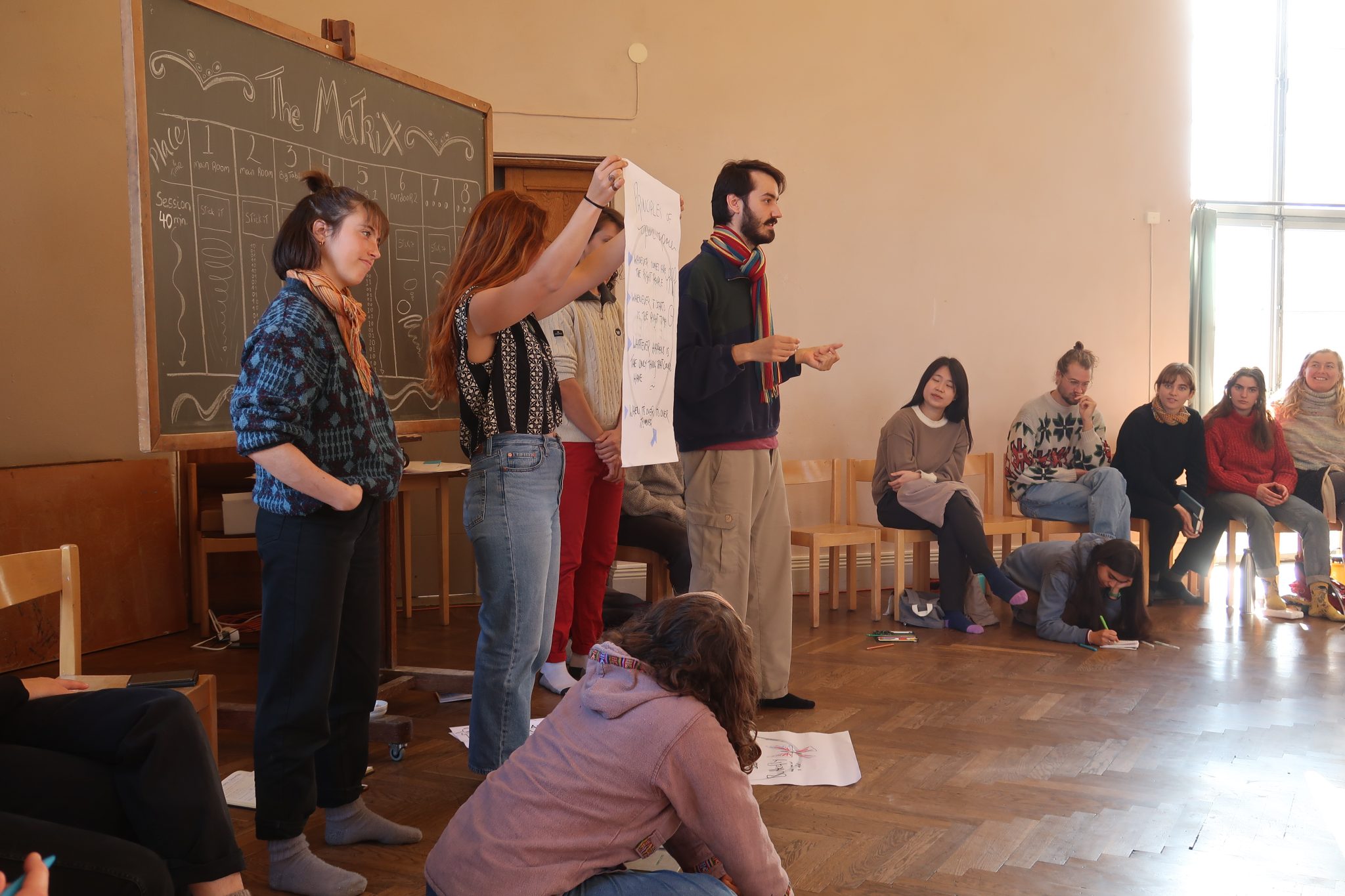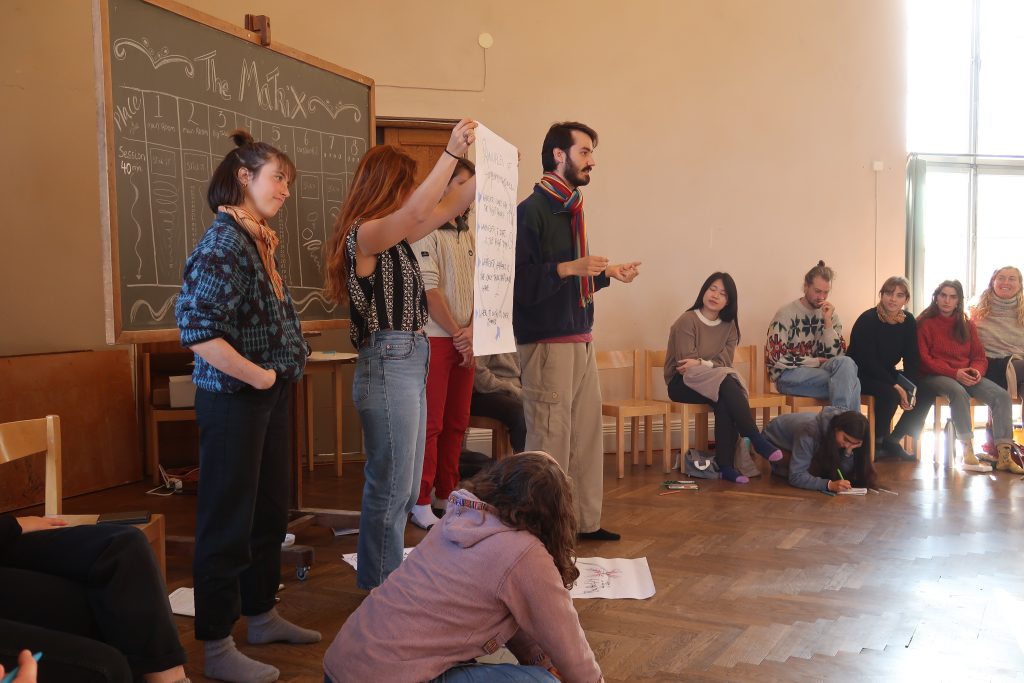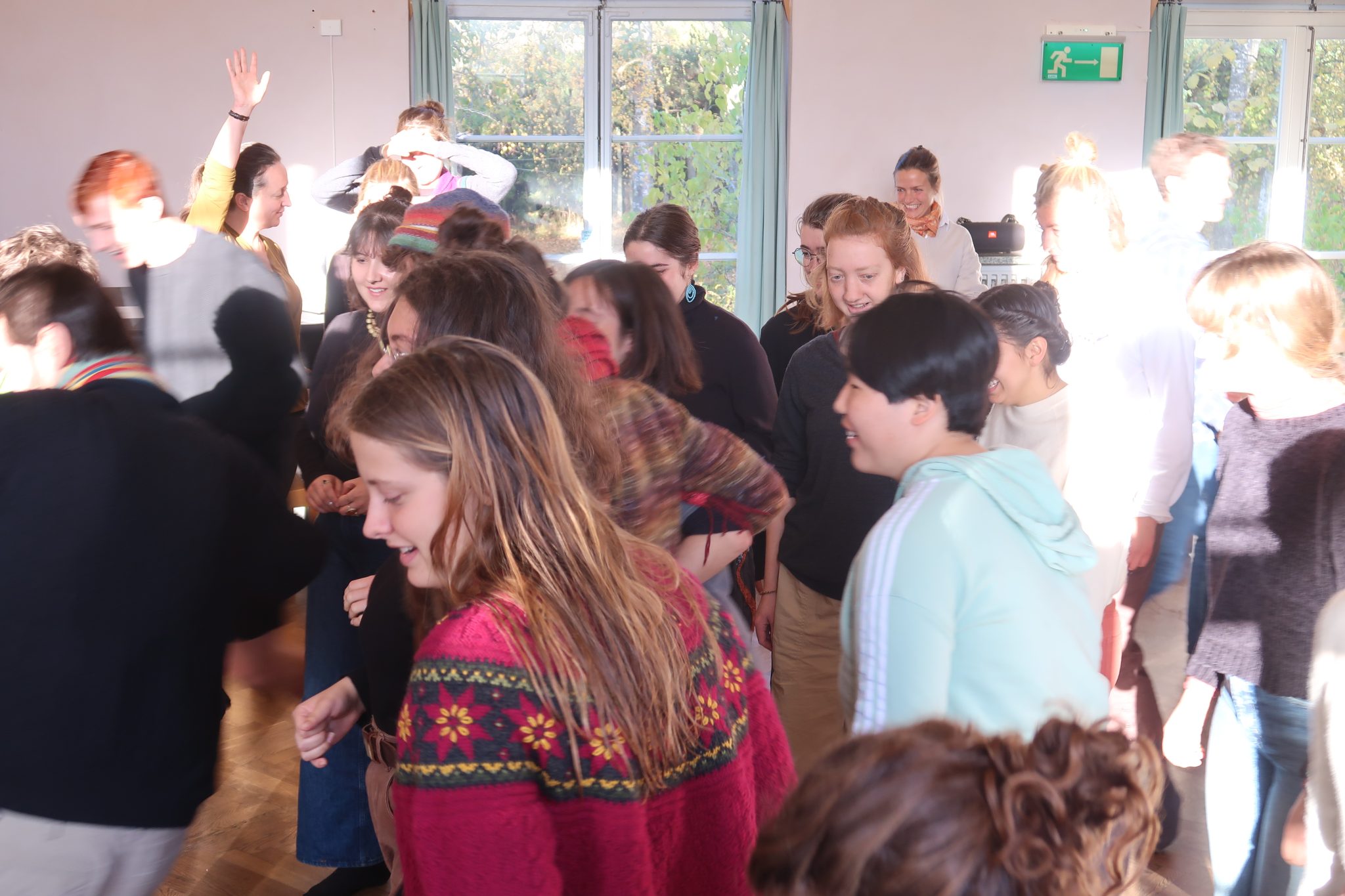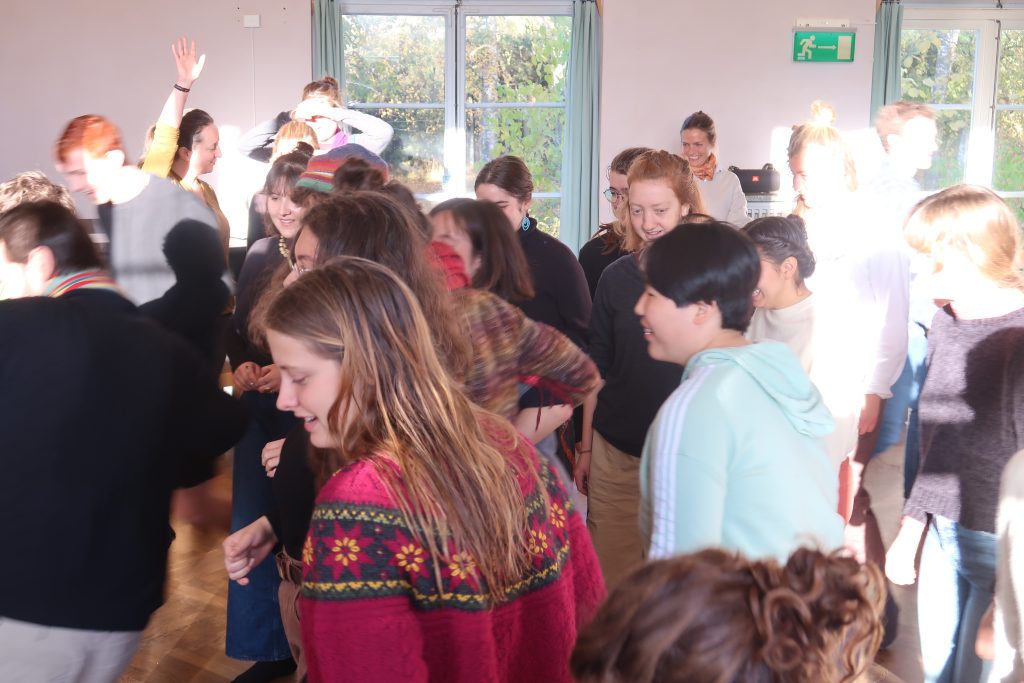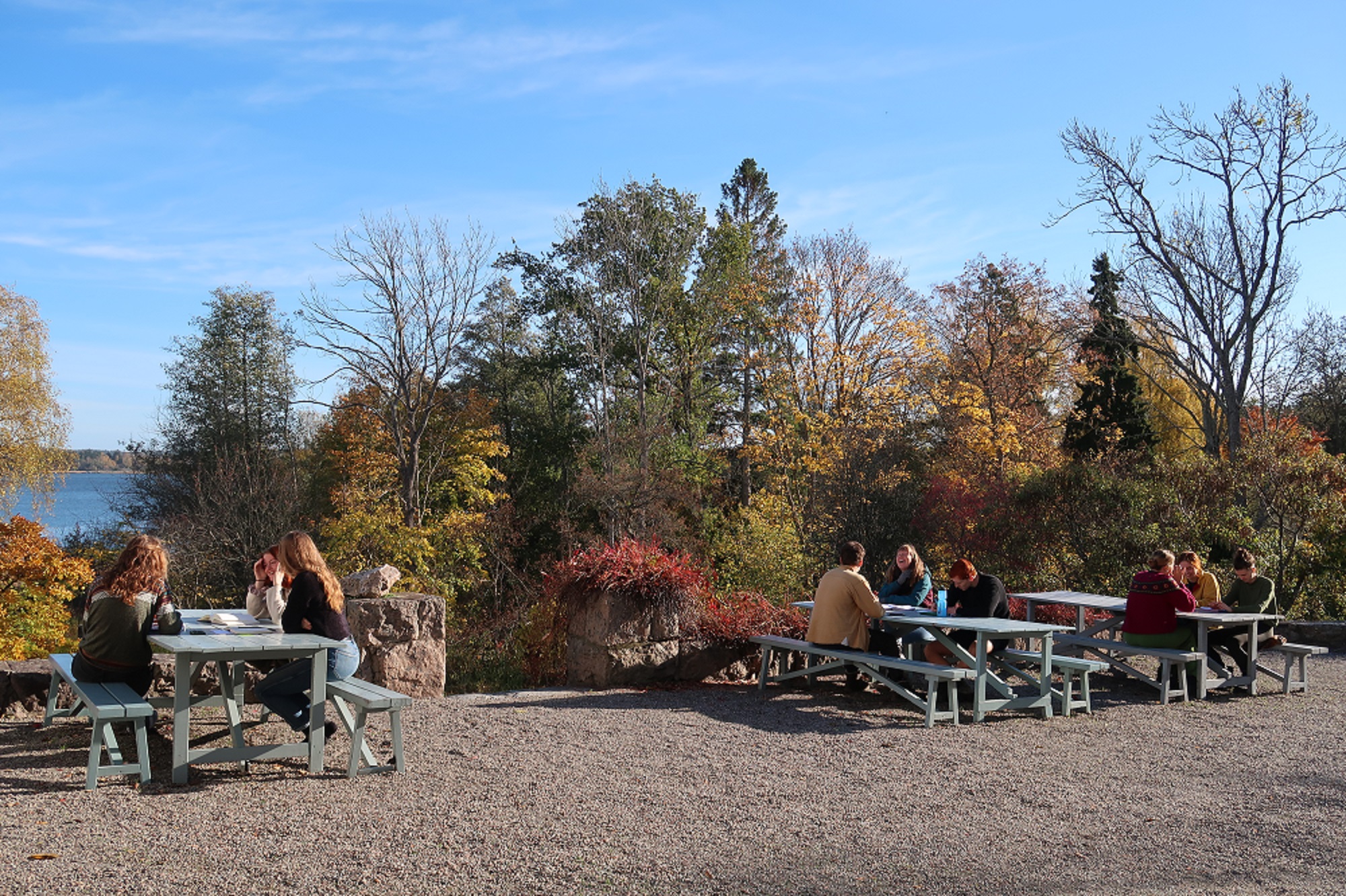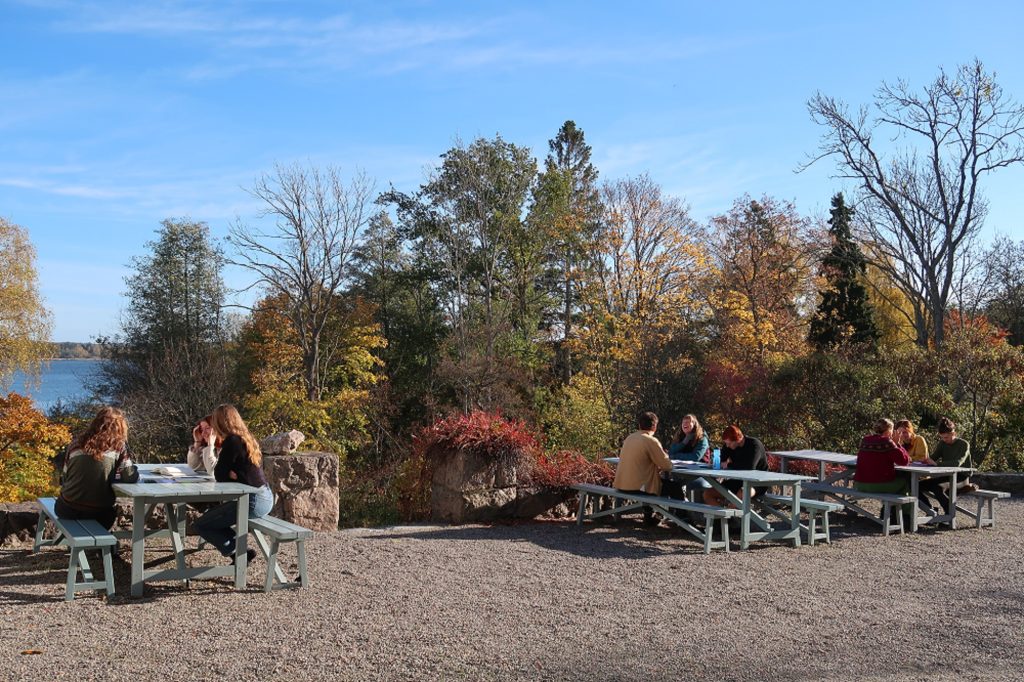 Community Life: ABC Poem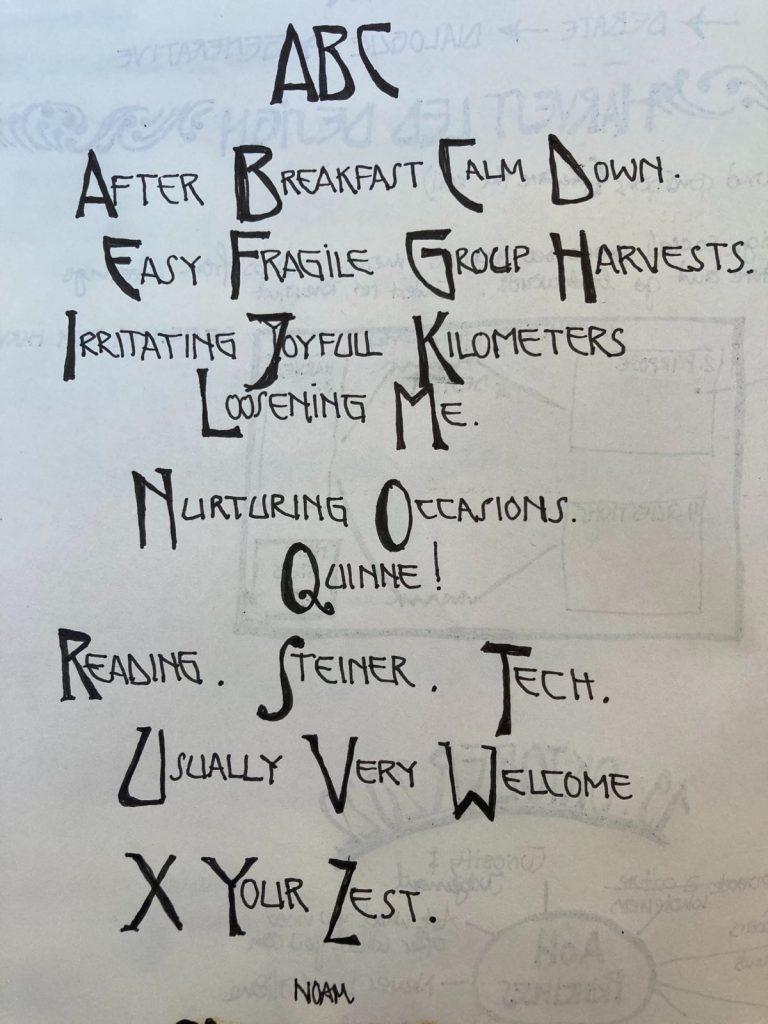 In the Next Newsletter you will find:
– Moving in Complexity
– Personal Initiative
– The Study of Humankind
– An Inquiry into Self: Biography Week
– The Art of Sculpture