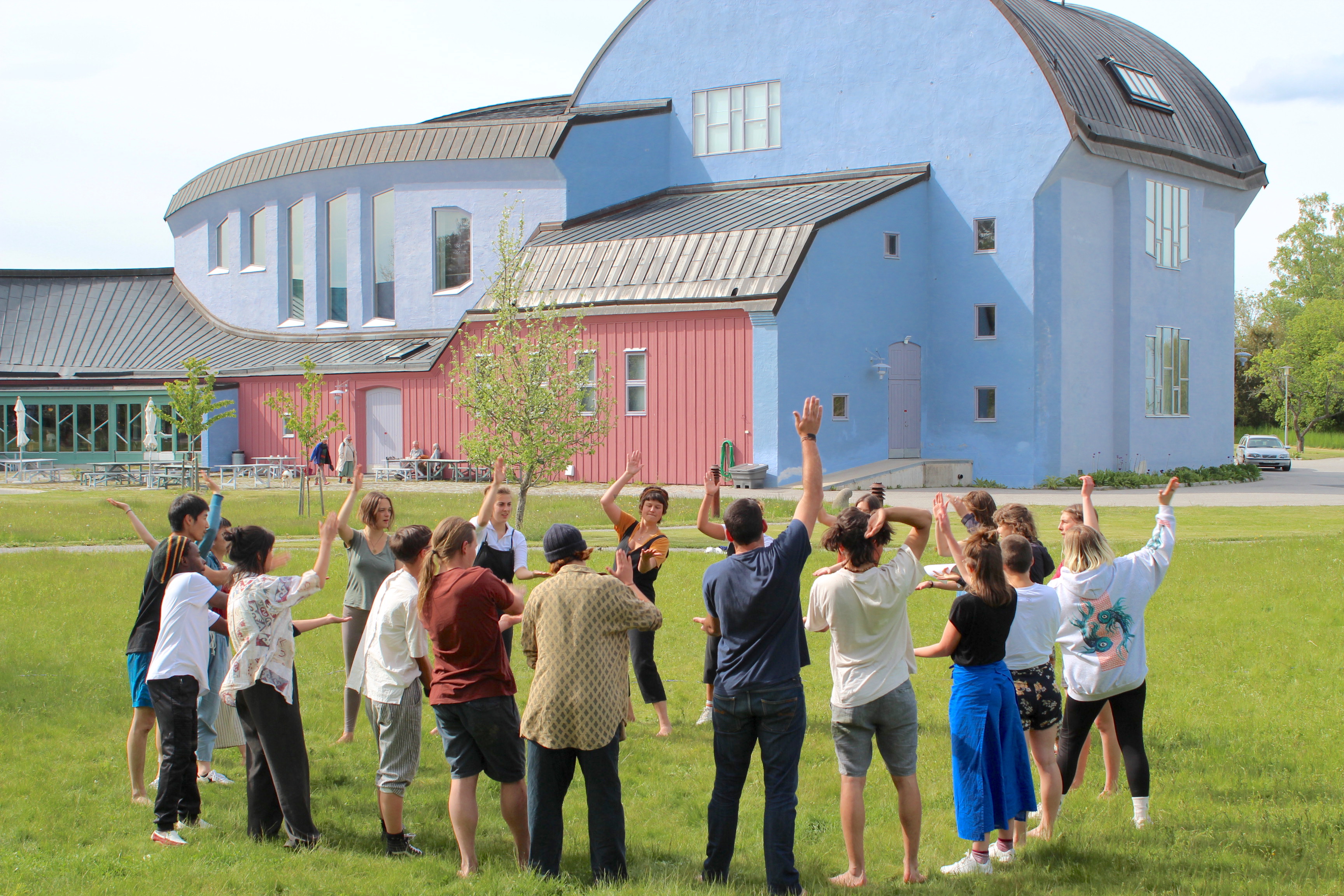 Dear friends of YIP,
Hej hej & cheerful Thursday.
Before YIP goes on a summer break, we are excited to share some reflections with you on the past and last weeks of YIP12. As a community of learners, we took the time to bring the year together and integrate our understanding from the various course blocks. We went on the Outdoor Experience, allowing time for daily personal reflections, and held space for some last group reflections in our educational space called the Hive. The Yippies enjoyed the last days of being together through games and butterkoek bake-offs, as well as through self-hosted intentional exercises to map out and appreciate the connections made during this year.
Last week, 23 Yippies became 23 alumni. Twenty three newly graduated societal entrepreneurs ready to step into the world. Enriched with a wide variety in knowledge, methods, tools and skills to bring into communities and systems. We wave them off on their paths to create a positive impact in our changing world.
It has been a joy to collect the stories of YIP and YIP12, and to bring them to you throughout the year. I hope you have enjoyed seeing a glimpse of what modern alternative education can look like today through reading the experiences of the YIP participants. I hope it has brought you inspiration, activated your own learning, and supported you reflect about YIP – either on your year if you have been part of one, or made you curious to discover more about the topics and questions explored at YIP.
I wish you all a lovely summer and am looking forward to reading YIP13's stories in August.
Hej då!
written by Mien Stoffels
In this newsletter you will find:
The Outdoor Experience written by Lynette van Pelt
Integration – the last phase of YIP written by Michael McMahon
Graduation written by Lina Ashour
A little goodbye gift from YIP12
Applications for YIP13: extended until July 1st
YIP13 update written by Isabel Chender
The Outdoor Experience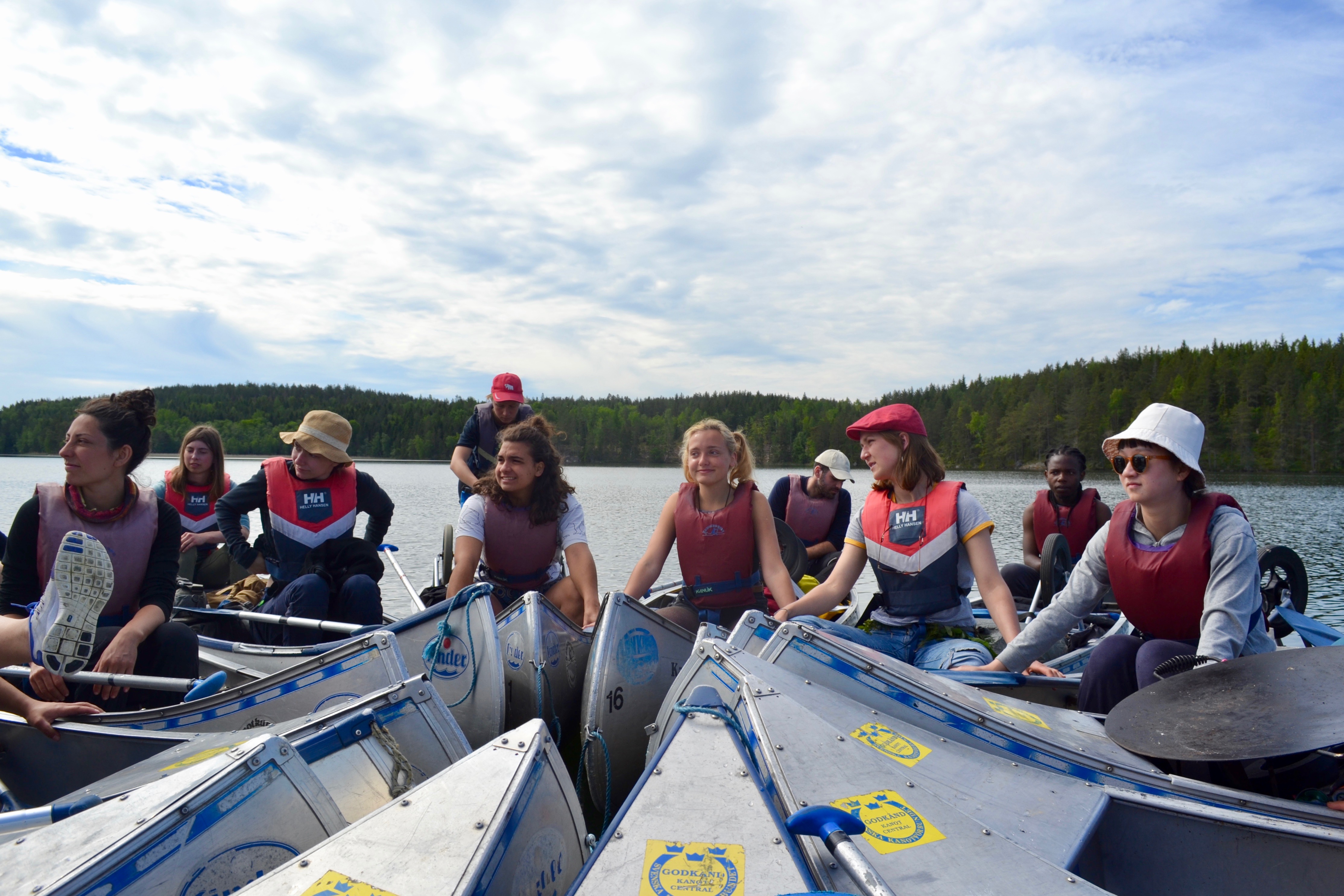 Outdoor experience: 'Time, how we measure it'
As we are prepared to go, we open our hearts to the great wide open, and playfulness finds its way through the waters. Boats bumping into each other, splashes of water, the pulling and pushing of canoes. Our eyes open in new ways, seeing the water landscape of Sweden welcoming our entity into it.
Through water and land we find our way to a forest camp, where we strike down on the riverside. YIP 12 finds its living organism outdoors, we build, we cook, we manage water, we organise and we create ourselves a solid meal in our first home base.
Colourgazing by the waterfront, we surrender to this bigger structure of earth. Full of life, and it looks majestic and delicious and maybe we should swim…? Numerous bodies explore the waters, until the whistle at the camp calls for gathering and marshmallows by the fire. The day ends in a circle of laughter and a sleep on top of the mossy hillside.
Morning has come,
night is away.
Rise with the sun,
Welcome the day.
Soft voices were singing us into a new day of river life. By the waterside, the morning light brings a spectacle of brown and green, and everything in between, on the water. Where we start our day paddling through the water pallet into the bigger waters. The cosy, narrow river opens up into the wide Swedish water landscape. From the boats we hear questions, jokes, singing and laughter, and a fluid interaction between boats and people arise.
The day ends with a collective search through a river base for a new camp to host our space. This place we find, this island, with hills and rocks, will be our new home. The whole troupe creates a common space; tarps climb in trees, creating a waterproof system, fire circle makes the place, wood holds the burn. There we sit, shoes drying on a stick, tea on the fire and the words of more time in this place due to rain, rain, remain. We sing our songs and find our way to sleep.
We wake up into a day of all kinds of exploration. Some sit by the fire all day, carving spoons for dinner, reading, telling jokes. Everything slides down into new forms. Others explore the waters and land, in search of the wildlife. Initiatives are spreading out and by the evening a sweat lodge is built of tarps and sticks.
The stones heated by the fire and the herbs from the forest were steaming the energy of earth and warmth into my body.
After a collective power beam, we find ourselves by the waterside again. Gazing at the sky and water, and imagination and reflection is in the sound of our voices. Pink, grey, blue and purple shine in the sky and on the water. Pinecones fly through the air. Behind us we hear the sounds of the Temescal and eventually the bodies come out cooling into the water. Whilst marsh mellows roast by the fire ending day life into dream life.
Next day on the water we explore new sights, the travel brings us land and water movement and we have to be strong and co-operative. We enter the wolf-territory. High on the rocks we find a new camp, with a view from above. After dinner we sit together in our YIP12 journey, where we speak of the life we've built together.
These outdoor days were bittersweet. Bitter in the letting go and the ending something beautiful together. Sweet in the beauty of it. This is how I imagined YIP. This has brought me the image that I imagined in my romantic fantasy and the journey made it happen.
'I am in a imagination, I am in the reality of it'.
The journey towards it has changed me. I embrace my changes. This experience has brought me new perspectives and experience in life.
Written by Lynette van Pelt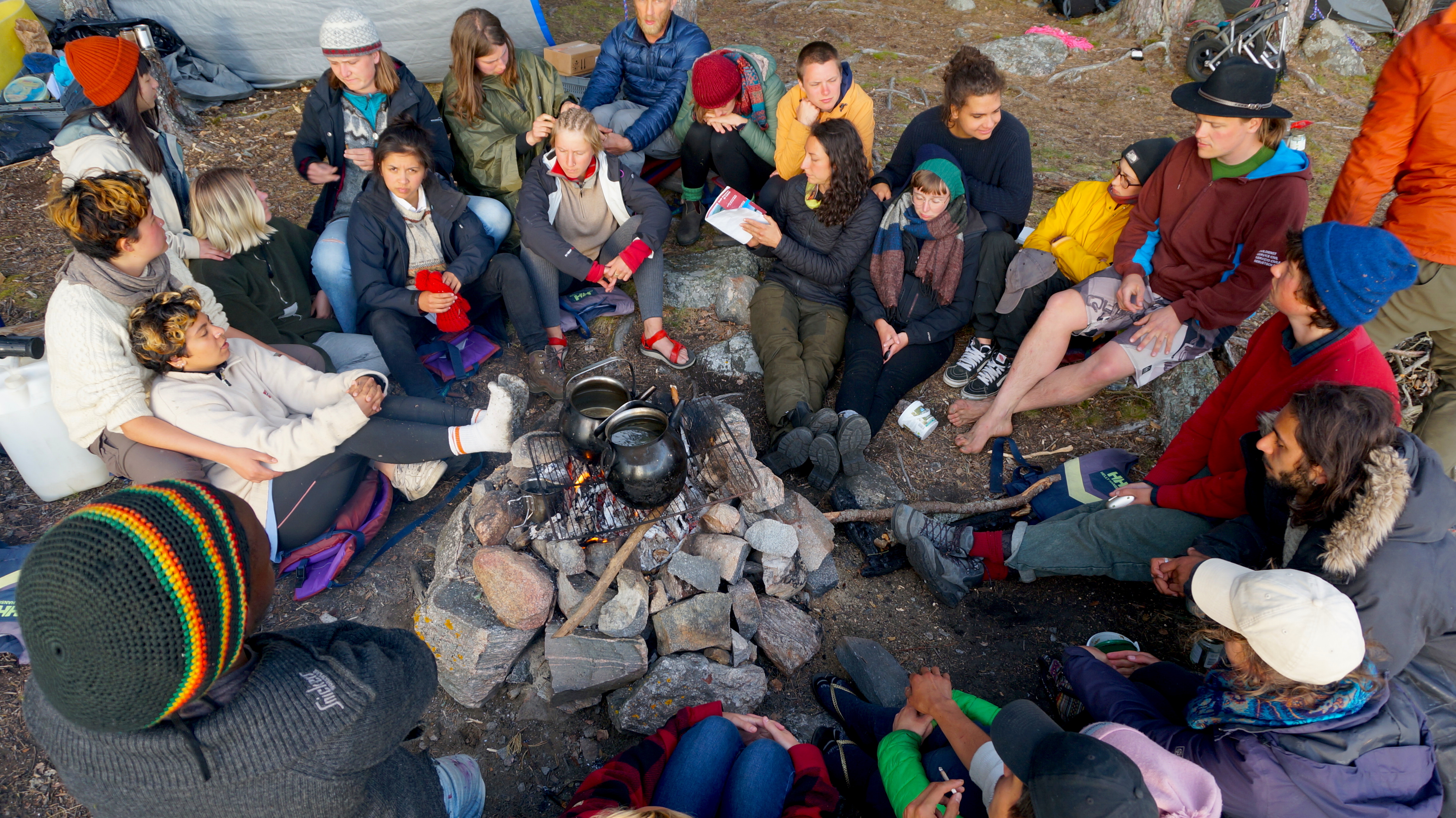 Integration – the last phase of YIP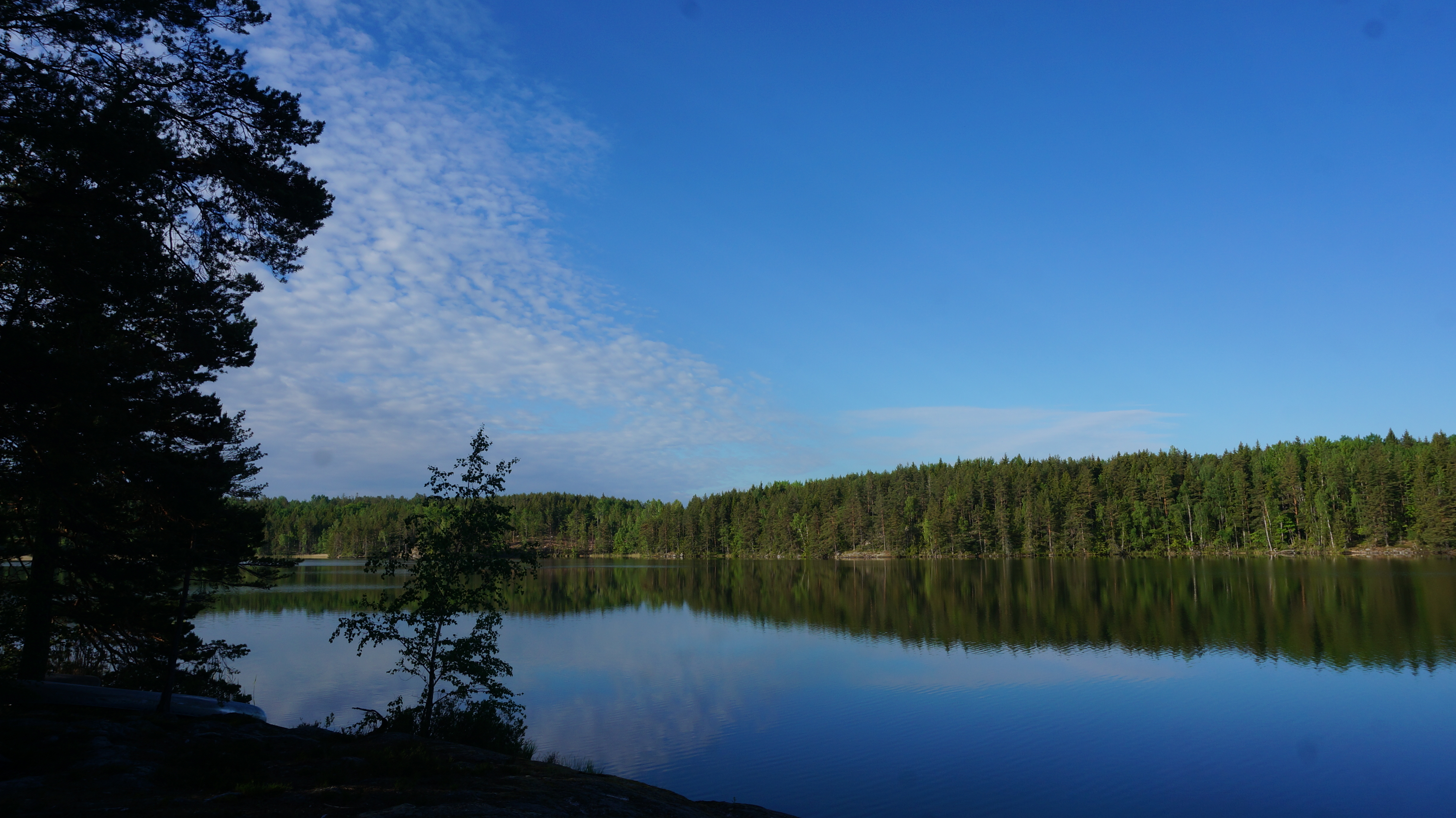 It's no wonder that a year simply cannot fit inside a conversation. And yet, I marvel at how much new insight a conversation about a year can bring.
"What connections did I miss?", I find myself asking. "What happened to my thinking in Movement in Complexity that changed my attitude towards the commons?". It's a delight to not only realise these things, but to hear other people's connections about your experience. And again, another layer of wisdom is gifted to you.
Of course, we all know it's not just any year. The closing weeks of YIP seem to me a strange synthesis of goodbyes, acknowledgments, recognitions, resignations, put grown boundaries, celebrations, memories, sadness and knowing. All these things were within our talks of walking through our year.
In my life, it's been hard to be grateful for such a multitude of experiences simply by remembering them. However, words such as "Internship" or "Hoy" bring up so much memory and shared experience, that this time it had to be different.
Looking around the circle, knowing these people were with me every step of the way.. it's hard to express what that does to you. For those of you who know, maybe you remember again what it feels like. For those of you yet to experience it, I envy you in some way. You really will just have to find out for yourself.
"These ashes indeed shine with the glimmers of memory,
But they do not fade as firelight would.
An Eastern wind takes each spark away,
As fireflies leaving the heart of warmth that so gifted them their own ignition.
No, these sparks take the wind as a friend
And take his hand gladly
For he comes for them.
They spiral once around the flame that burns there in the softest night,
Within the dances of shadows and light,
The past gives one last fleeting goodbye.
The sky, an array of blazing stars
Now always interwoven.
A most beautiful tapestry.
A constellation of hope, of kindness, of trust."
… the end?
Written by Michael McMahon
Graduation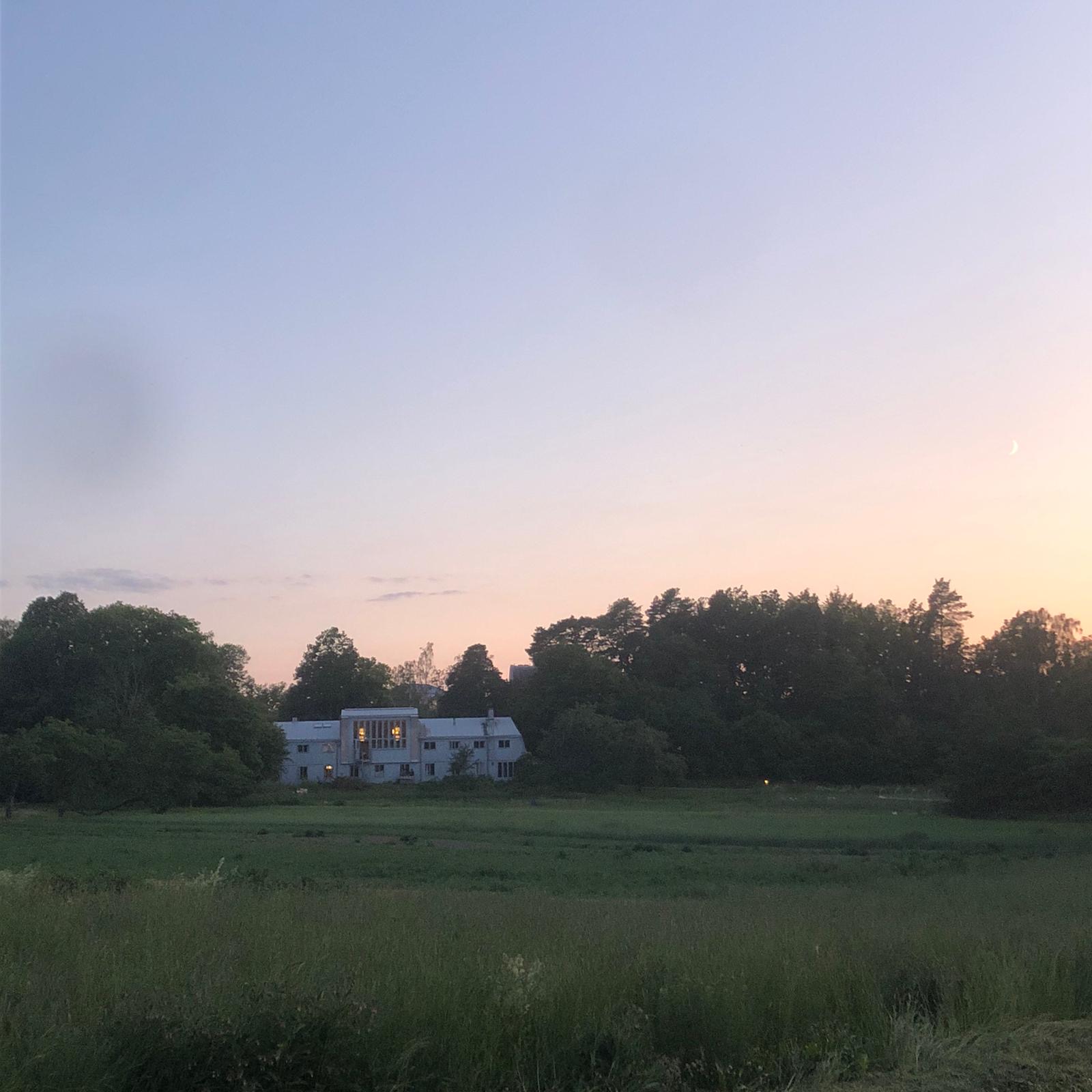 It's warm outside.
I'm sitting by the Magasinet.
A rusty red house opposite of Tallevana.
Tallevana.
A place I got to call home for the past 10 months.
The sky is clear. Blue with a slight red tint of the sun settling down.
It reminds me of the rosy cheeks of joy and a little bit of shyness that I have met on the first day of YIP.
Today those same cheeks have been the holders of laughter, curved lips of sadness, shock and grimaces of happiness. 10 months I have spent with these incredible 22 people, well… 27 counting our beloved OTs.
Today marks almost one week passing our graduation. What a gorgeous day that has been.
Above my head I find birds dancing for the last time before the sun finally sets down to make room for a new day to rise. They remind me of us. How we have, so lovingly, been set free.
"Welcome to the other side", Reinoud's words ring through my head. With compassion and a heartfelt welcome he shows us into the world all of us have been aspiring to be a part off.
We now are Social Entrepreneurs, and with that we are responsible for everything in this world. Yes, us: the shy, the introverted, the artistic, the compassionate, the believer and the criticiser, the cook, the carer, the listener and the spontaneous. With our graduation we stepped into the co-responsibility of this world.
A place of anger, corruption, discrimination, inequity and struggles and also a place of warmth, community, curiosity and bravery. And yes, it might sound scary or a little bit overwhelming but it sure also is empowering. From what I have learned in my time here, turning from a baby bird into an almost full grown one is that through conciseness and free responsibility I know that I can play my part and trust in others to play theirs.
We all hold a space that we fill with our stories. Some have already found that place, others still find themselves on the quest of seeking, whilst knowing the individual criteria we have for us to be able to find that spot.
One week ago we got to see every single one of us walk their paths. On graduation day, together, we stepped into our responsibilities. We got to unfold our wings and let the feathers twinkle and shine in all colours of the rainbow that can hold and lift ourselves and each other to fly into different corners of the world. All of us carrying a crystal under the wing and different seeds in our mouths that will find their way back into the solids of the earth just as we go.
YIP 12 has spread its wings.
Fly high: Dünchen, Elf, Rubington, Mimo, Steppus, Johannski, Kuki, MJ, Mengmeng, Jola, Serci, Chif, Adi, Bri-Bri, Maaikey, Amichan, Chiara(Monika-Mönchen), Joni, Netti, Löttchen, Leilou and Heddo.
May the winds of life carry you towards beautiful places and when the days turn darker and the seasons pass, I deeply hope that just as I will, you will remember this home too.
Thank you to Mien, Reinoud, Isabel, Nil and Annie for creating this beautiful unique nest of ours. You endured the same losses and celebrated the same achievements as us and have stood by our sides. During that time, I mostly want to thank you for seeing us, each individual, who we are and no one else. From the first until the very last day.
I'm still sitting by the Magasinet.
Some birds are still chirping and the New Moon is shining above Talle.
Myself and my friends awaits a new chapter, with empty papers to be filled with new stories in ink, watercolours and finger-paint.
It's getting cold outside.
Tallevana is calling me for one last time to sleep in its warm soul.
Written by Lina Ashour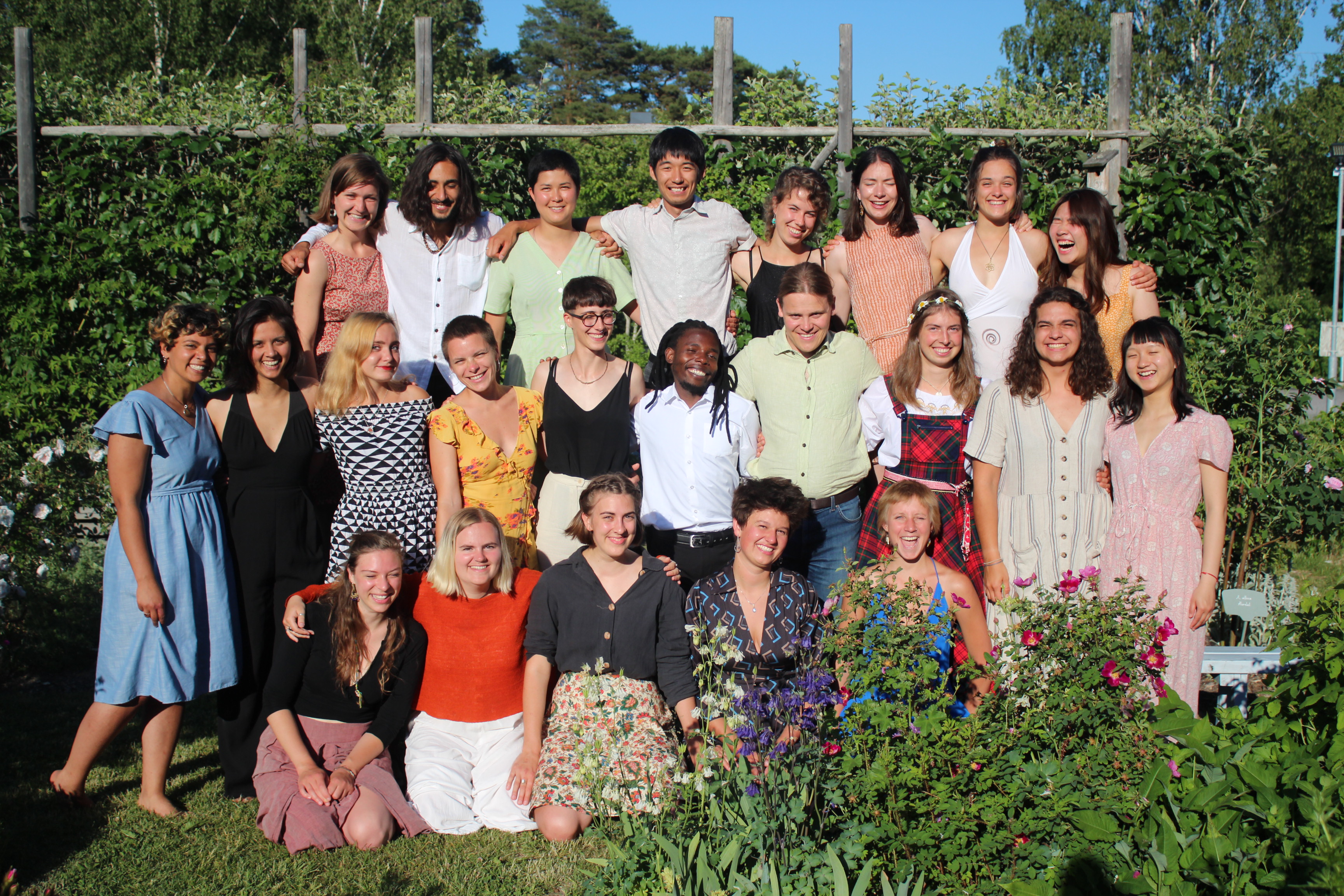 A little goodbye gift from YIP12
May my kisses arive at dawn
May my words travel with the birds
See you soon friends
A song for and from YIP12
– click here –
Ketemoe Lagi
Indonesian for:
Be well or be happy;
wherever you are,
wherever you're going
or wherever you might by staying.
Applications for YIP13:
extended until July 1st!
Join YIP!
Are you looking for a holistic in-person education next year?
Do you want to grow your capacities, knowledge and skills to manifest positive change in the world?
Are you ready to step into a mindset of possibilities?
Apply for YIP13 – we have extended the deadline for applications for YIP13 until July 1st.
If you are affected by the current coronavirus situation and this is creating challenges for you in relation to your application, please write to Isabel at [email protected]. We are happy to answer any inquiries.
Help us spread the word!
Do you know someone who might benefit from joining YIP? You can support YIP by sharing our social media posts, posters and flyers within your networks. We are very grateful for all the support we've been receiving from you and the various networks you are part of. Thank you!
Apply now for YIP 13
YIP13 Update
YIP is a permanent improvisation. Each year the organising team takes the curriculum back to the drawing board. We look at the ethos, principles, and core of the program so we can discover the form needed to hold this intention and allow for the unfolding of participant potential and the needs of today's world.
In YIP12 we experimented together with new ideas:
– We had our first two part Outpost: we went on an adventure to the Isle of Hoy in the Orkney islands of Scotland, and stayed at the Findhorn Ecovillage.
– We started the Personal Initiative during the Inner Awareness block as a shift to allow more time for participants to settle into the program and themselves before committing to their personal initiative.
– We welcomed new International Internships such as RedClay Arts farm in Canada and the University of Orange in the USA.
– The Yippies hosted our first online Initiative Forum, attended by 280 participants!
As we look forward to YIP13, we are working with feedback from Yippies, our team, and our broader network of relationships to continue to create a program that is meaningful and relevant for participants and the world.
We are hopeful the program will run as applications have now picked up and borders begin to open.
We await July 15th to hear the decision on whether international flights will be allowed to land in Europe due to co-vid19 travel policies.
On July 20th we will communicate with our YIP13 participants about the year ahead. We appreciate the bravery and capacity of our incoming Yippies to be resilient and flexible.
In the meantime, here are some ideas we are considering for YIP13:
– Shifting the Internship to after the Initiative Forum. The aim with this is to allow participants to focus as a group to bring the Initiative Forum together and step into their Internship with more of a focused intention.
– A new Initiative Forum date: March 1-5th, which is during the Swedish Sportlov holiday.
– Bringing physical movement into afternoon sessions.
– Continuing to work with local societal entrepreneurs and creatives to host our afternoon mentor-led sessions.
– Creating more space for self-designed time around the Initiative Forum.
We are very grateful to all who have been of support to the participants, the team and the program in this year that asks for clarity of thought, trust in uncertain times and a deepened commitment to purpose and intention. We are also very grateful to Ytterjärna, Hoy and Findhorn who have helped us all.
See you soon!
written by Isabel Chender
See you in August!
Is there anything you'd like to see more or less of in this newsletter? Let us know and we might take it into next year!