You might have noticed that, during the past month, we have not advertised for YIP's coming year (YIP13), even though Swedish reality has allowed for us to stay up and running.

We thought stopping our advertising was the most sensitive thing to do give the level of global uncertainty.

Slowly, some clarity has been emerging in the team, and we would like to share it with you:

At the moment we are planning on going ahead with YIP13, always while remaining sensitive to the global realities.
Applications
Due to the coronavirus pandemic, we have received a large amount of inquiries from applicants. If you are affected by the current coronavirus situation and this is creating challenges for you in relation to your application, please write to Isabel at [email protected]
Q&A
Can I enter Sweden for the next edition of YIP?
Currently, there are no restrictions for citizens from the EU and the EES to enter Sweden. This means that at the moment if you are from an EU or EES member state, you should be able to enter Sweden and attend YIP.

For citizens from outside the EU and EES, there is currently a travel ban in place until July 15th 2020. We hope this ban will lift after this date and will keep anyone that applies from outside the EU and EES informed as best we can.

What about YIP and social distancing?
YIP has the exceptional situation of being able to limit our contact with others if needed due to our rural location.

What this means is that with some minor tweaks, we are able to minimize our exposure to the general public and be self-contained into one household. This allows us to maintain the in-person, residential program we cherish at YIP and which is such a unique and important part of the YIP experience.

Can YIP run during the Covid-Pandemic?
With some additional tweaks to the practical running, YIP can maintain its operations due to the fact that all the participants share one household. The main change might be that some contributors might not be able to physically join. We are well awake to the changes the world is experiencing, and we will adapt properly while keeping you all in the loop.

With care,

Nil from the Organizing Team
*******
And here our new poster!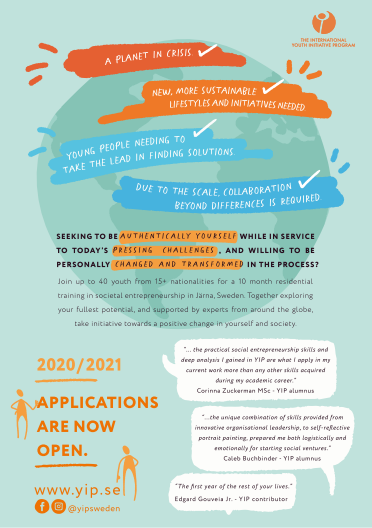 Applications are open until June, 15, 2020. Find out more about our Application Process.