It's been two weeks now since all the Yippies have returned to Ytterjärna after 5 months, since they set off to the Brazil Outpost and journeyed onward to their International Internships. There's a felt sense of relief as the group is finally all together again, in one big house, surrounded by the peaceful and familiar setting they call "home". The fjord might still be icy, colds and flus are going around, but their hearts are warmed and the first flowers of spring are sprouting!
Hosting them for the last three months of the program is a new Organising Team constellation. Phoebe Tickell (Enspiral, Schumacher College) has joined as OT, and will be bringing her multi-talented, initiative taking know-how to YIP10. Jim Howard (YIP9) and Eva Sauerbrey (YIP9) have also joined the team as YIP Volunteers, to give extra support to the OTs as they hold the last stages of the program, the YIP 10 Years Gathering, and the design of YIP11.
It's not been long since returning, but already YIP10 are firing ahead into the Initiative Weeks, and enjoy being met again by contributors Alan Webb and Sarah Bradley from the self-directed learning community, Open Masters…
---
Ytterjärna, Ytterjärna
---
And we're back!
The final days of our internship were spent looking back and processing everything our group had been experiencing in the Philippines. We had a feeling that when we returned to our Swedish home in Tallevana, we might be swarmed by all the Yippie excitement.
For me, at least, I felt totally swarmed – in the best possible way. So many hugs and smiles. The beautiful quiet moments with friends I hadn't seen in a while. I was even sentimental to be reminded of how fast dirt accumulates on the corridors I'd have to clean later.
Israel, Nepal, Philippines, Spain, Brazil, Egypt: we all arrived at different moments over the course of a week. We're all holding different intentions for the last 3 months of YIP, but the theme of "life after YIP" is really alive for many of us. This means staying present can be a challenge. For me, a really special moment was everyone eating together again: there was lively conversation in the air, and our Portrait Paintings were hanging up all around us. Something has shifted, yet we are still rooted in the group. Continuity can be really beautiful. I'm really grateful to be here.
Written by: Robbie Solway

---
Internship Presentations
---
After six weeks spread apart in our own adventures, the Yippies got together again in Järna, Sweden, where we began. With great excitement, we hugged each other tightly, and shared with words and pictures the time that we have been apart.
While preparing the Internship Presentation, as a group of six people (I was with five other yippies in SEKEM, Egypt), the challenge came as time management for the presentation. How could we present the most interesting parts of our experience, into a 40-minute presentation, which could include individual experience, group wonderness, and not only the happiness we have gone through, but also the challenges that have came along as a part of the learning journey?
The exciting day came, as we sat together again in our hive building, listening to the first presentation from Nepal, followed by Brazil, Egypt and Israel, and the second day by Spain and the Philippines. With laughter and enjoyment, we presented and as well listened to each other's story. It was a great harvest of our adventures, and a great opportunity of catching up with each other.
We heard about building projects, hands-on work on the land, working in schools, ecovillages and a whole tapestry of experiences and challenges overcome, which also includes the inner challenge and the need of caring for emotions. The groups found unique and informative ways to share their experiences, with storytelling, acting, singing, presenting with pictures and videos, and an interview panel hosted by Leonard in the Spain group…
Finally, we could settle down again as a group of 28, to process and digest what we have been through, and then move together on to our last 12 weeks of YIP, and as well the future that is ahead of us all.
Written by: Yu Show Huang (Phyllis)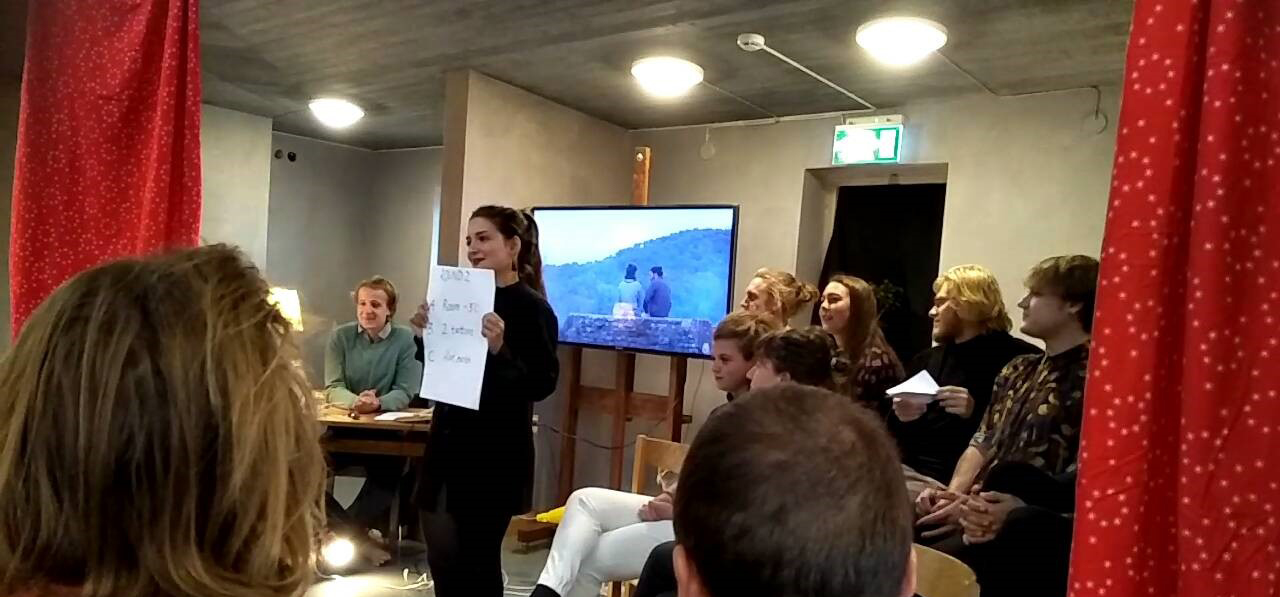 ---
Initiative Weeks Preparation
---
As the first week after our return from the Internships was slowly coming to an end, and the Internship Presentations were successfully closed, we moved on towards planning the self-directed section of the YIP Curriculum called Initiative Weeks.
The group of Yippies, more than capable of great hosting, spent a Thursday and Friday morning designing in order for us to push our plans and ideas forward. Thursday morning was focused mainly on the process of looking back, seeing the work that had already been done in Brazil, and updating about the work and development of the proposals from individual Yippies throughout the Internship. Some of the proposals or projects were more developed than others, yet the day offered a good understanding of where we are at and where we need to go.
On Friday morning we focused mainly on the work – the actual development of individual proposals. The "Work Space" created by our hosts, allowed us to push our ideas even further, so far that at the end we were able to create a schedule and actually see our Initiative Weeks. Right now it is on us to hold the space. Some of the projects still in process are keeping us from diving fully into our self-created curriculum. It is a constant dance and adaptation. But overall. we are creating meaningful and complex learning experiences for ourselves.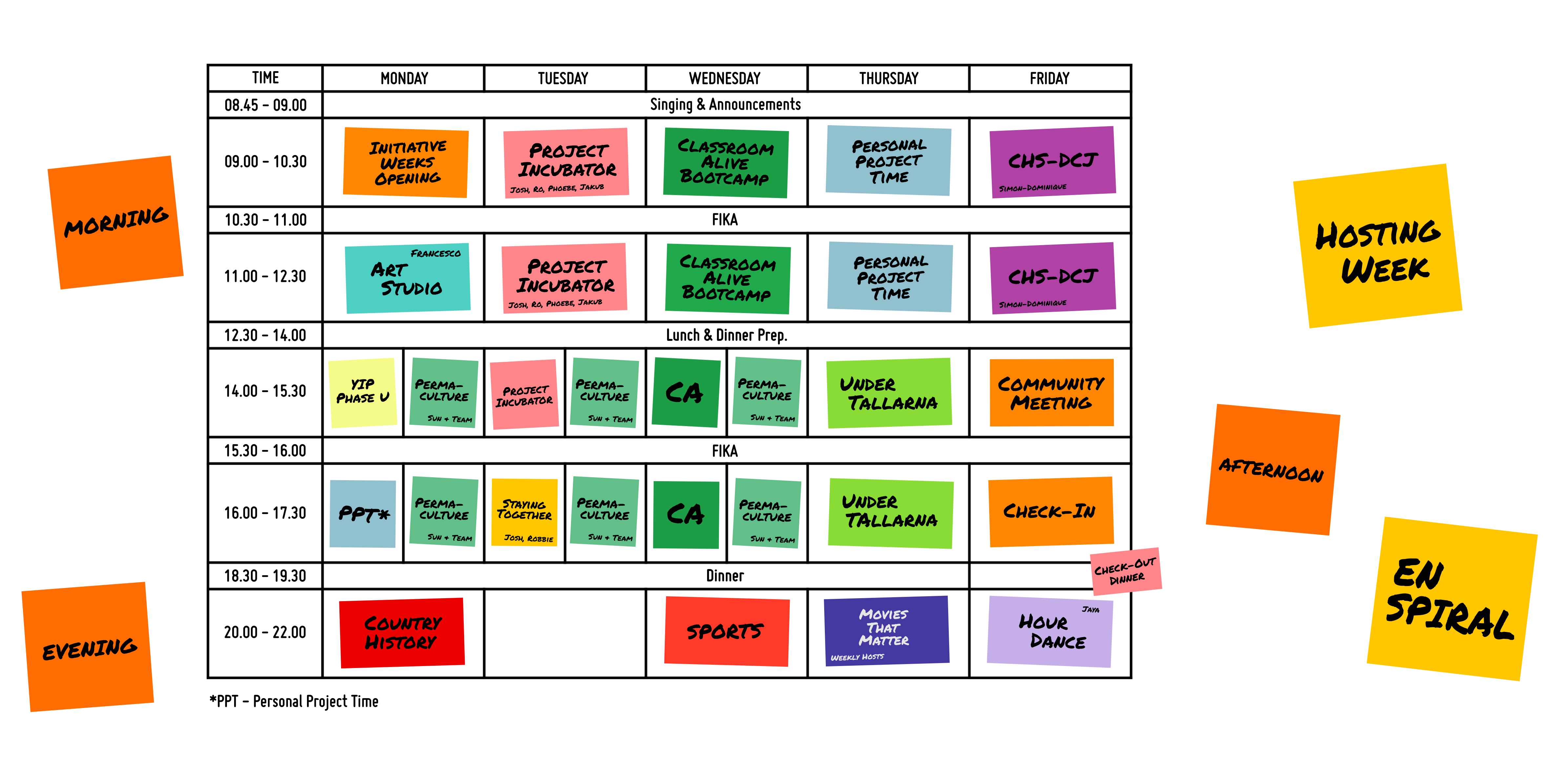 Due to our decision to invite Street Poets, an LA based organization using creative writing and poetry for healing processes, we needed to start a fundraising campaign in order to cover the costs. If you feel called to help make this dream a reality and enhance our learning and development, donate using the information bellow.
Written by: Jakub Hrbáň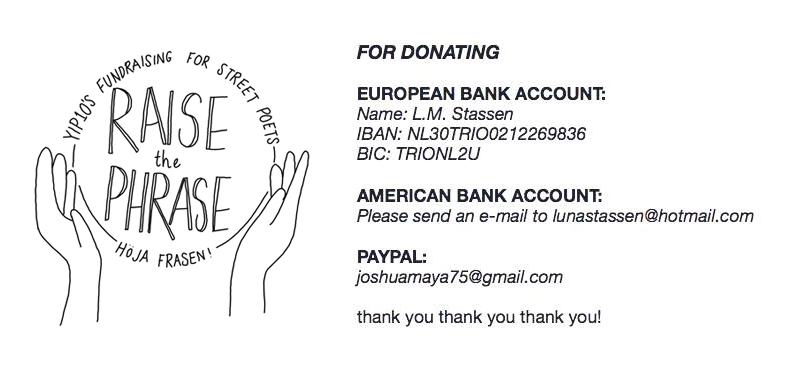 ---
Open Masters with Alan Webb and Sarah Bradley
---
Thanks to their refreshing presence and ability to ask, sense and adapt to the constantly evolving needs of the group, Sarah and Alan brought way more than powerful tools for reflection and self-directed learning to our community. The second week with the Open Masters seemed to weave into our lives almost effortlessly, helping us to land and re-focus.
On the first day, we put the memories and learnings of the past months to paper in the form of a journey map, which is a graphic harvest of your personal process during a certain time. Then we looked into and set intentions for the weeks to come, using methods like the "Clearness Committee" where a person talks to a question that is alive in them in this moment, and gets support through questions and appreciation. Next we dove into dreams and planning – to finally arrive and remain in the now.
In the closing round it became clear that those five days had been very powerful for many of us, supporting us not only with projects, but clarifying the way we move on with our journeys of exploration: in essence, our lives.
Thanks across the atlantic for being a part of our community and inviting anything present!
Written by: Flora Gerber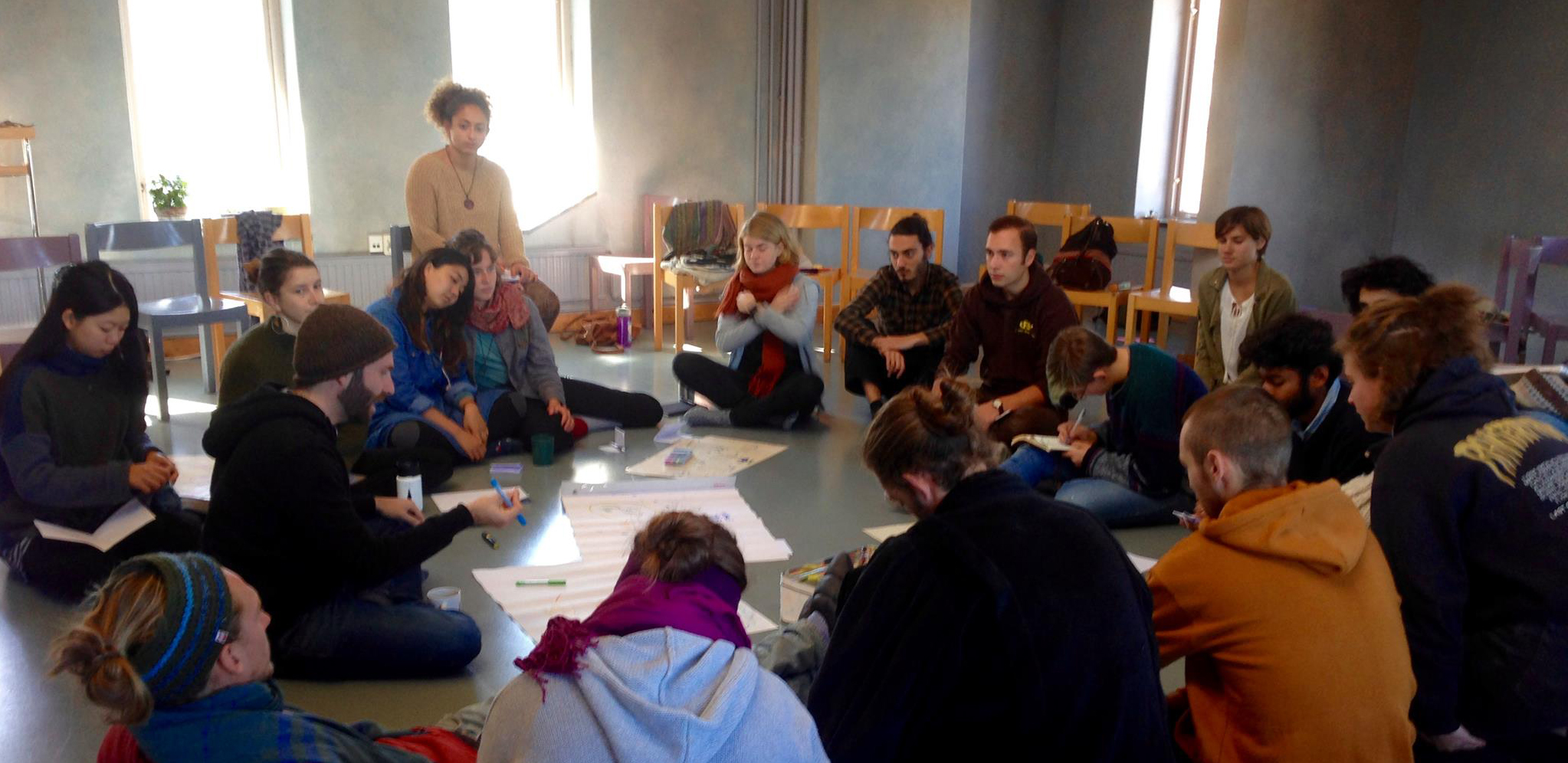 ---
YIP Network News
---
Final Chapter: A Story That Could Be True.
Once upon a time, in a land as close as you can imagine, young people around the world WALKED out of the old systems and set out into the unknown… They did not know where they were going, they had no compass but the glinting light of their yearning for a more just and beautiful society. As they journeyed their numbers swelled by the millions and as they moved, like an unstoppable wildfire, their will for something wholly new spread across the earth.
Prologue: Classroom Alive.
Classroom Alive began 5 years ago when a small group of YIP Alumni set out to build an education for themselves and a model for their peers, that could lead them rigorously and intimately into the co-creation of the world they wished to live in. The basic model was to undertake self-directed studies on a journey, 4 hours of studying and 4 hours of walking each day, over six months as they walked and studied from Sweden to Greece.
Over the past 5 years, 9 different journeys have been self-organized by small groups of learners. What started as a seemingly foolish idea has sprouted into a budding community of learners creating their own journey schools.
Chapter 1: Growing an Ecology.
Now as we look ahead, we are exploring how to build a lean and empowering organizational ecology of learners supporting others to create their own journeys. The first step in this process has been our Classroom Alive Bootcamp, a weeklong design intensive, prototyping the basic conceptual architecture of an entire journey. This year will see the second iteration of the Bootcamp taking place in Barcelona August 13-20th. If you have enough gumption to want to create your own journey school we would love to have you join us.
In the coming year, we are also offering the story and model in one-day Basecamp intros to different hubs of change-makers. Creating a Classroom Alive can be a profound way for newly minted social innovators to put their skills into practice while offering their community the opportunity to participate in a journey school. We see that in the years to come as the network-run organisation grows, Basecamps and Bootcamps will multiple through diverse communities, creating an exponential wave of access for young people to be able to create their own journey schools.
Chapter: ??
We do not know how many chapters will be written till our world is permeated with young people following their deepest sense of possibilities beyond the edge of the unknown. Will you journey with us? Let us walk out of our broken systems, let us be an unstoppable wave of vision, inspiration and learning towards a more beautiful world.
Written by: Caleb Buchbinder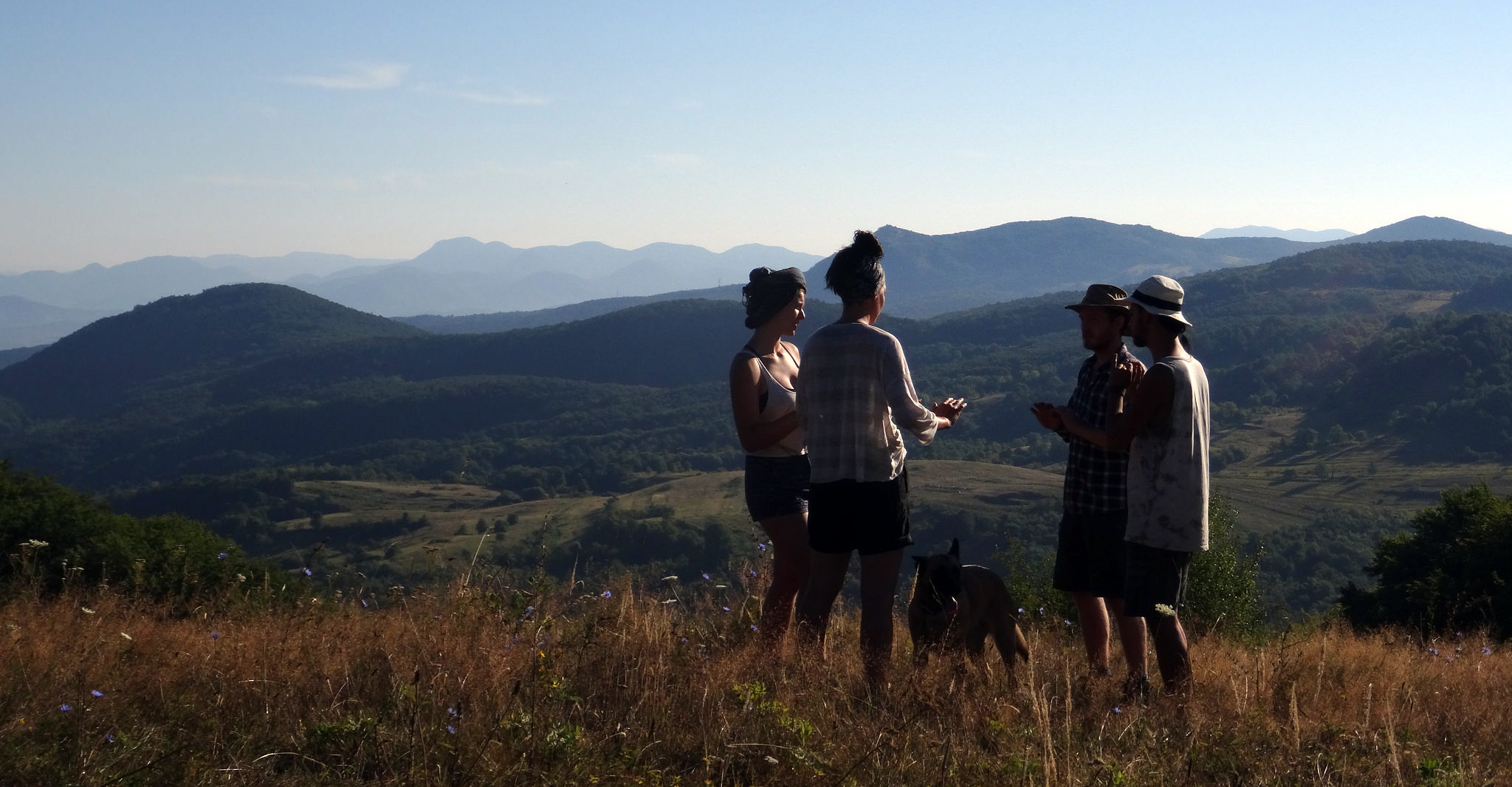 ---
10 Years of YIP Gathering
---
As a way of kickstarting our collective thinking and excitement, we are adding a section to the newsletter for the months leading up to the 10 Years of YIP gathering in August. In preparation we are inviting some voices to share their thoughts, anticipation, questions and excitement for the meeting. This month: Nicanor Perlas
"Dear Friends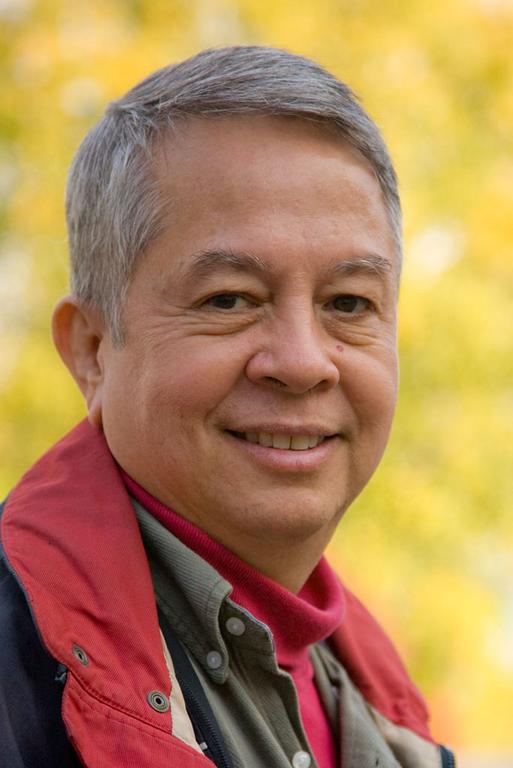 The world is utterly changing before our eyes. It seems that evolution has accelerated. But has it accelerated beyond the degree to which we can have a meaningful place to determine its future direction? Or are we all simply too small, inconsequential, and totally fodder to the giant machine of world events that will simply ignore our deepest aspirations and passion and move on without us?
Ten years of YIP! Dozens of young idealistic human beings who long to create a better world.
LET US MAKE IT HAPPEN! TOGETHER AT YIP'S SUMMER GATHERING!"
---
YIP 11 Applications Open
---
Registration is open for YIP11! Follow the link to find application information from the YIP website.