Summer is Here!
Summer with its longest daylight hours has arrived. The trees and bushes are now in their full green splendour; flowers are in bloom bringing the warm summer air into a sweet mixture of colourful smells. Here at YIP people have started to show visible tanning. The evenings are filled with small groups of people sitting around fires, sharing stories and music. The end of our time together in Sweden is visible, which seems to tighten the bonds and friendships between us.
In this newsletter we share with you what has been present during our last weeks at YIP. From Initiative Weeks, where the Yippies took Initiative and shared their Personal Projects, until the last courses, which were Wild Foraging, Street Poets Week and Outdoor Experience. We wish you all a nice read, hopefully with some sun on your face and a glass of water in your hand.
---
Looking Back: The Initiative Weeks and Courses
From April 24th to May 19th the Yippies wrapped up the Initiative Forum numbers and finances and implemented a strategy to sell the remaining apple juice boxes produced during the first half of the year.
Besides that, they could bring workshops and activities related to their interests and fields of work such as as the Creative Craft Space hosted by Carla, Dream Factory workshop hosted by Myrian, Kathrin and Pauline and a Flowforms workshop organized by Kathrin. It was also a time to start designing their future steps after YIP , together with the help of the founders of the Open Masters program, Alan Webb and Sarah Jane. The Yippies also worked on their Personal Projects.
Initiative Forum Wrap Up by Kathrin
The first week of our initiative weeks was still dedicated to Initiative Forum: writing thank yous to our sponsors, preparing the contact list for the participants with a last email to them, tidying up and a lot of number crunching in our finance team.
According to our records we sold a total of 174 Full Forum tickets and 91 day-tickets. Our participants made their way from 26 different countries and 70% of them attended Initiative Forum for the very first time! We invited more than 50 cultural contributors (theater, bands, dj's), had 8 fantastic morning lectures and offered more than 30 workshops.
Loving statistics, we continued looking at the numbers of the kitchen where 116 volunteers had helped out to prepare and serve more than 3500 organic meals. Thanks to our sponsors we were able to keep the costs of our ingredients, per meal, as low as 12 SEK.
Initiative Forum also requires logistics and transportation which made us drive more than 3.200 km, the same distance as Jarna to Madrid. Regarding accommodation, in the gym which we hosted all the participants we had an interesting last and fun fact: Participants did not wake up the noise but because the floor was moving!
Flowforms workshop – Visit of the Virbela Atelié by Kathrin
How satisfying is the feeling of the cold, wet clay sticking between my fingers, forming and changing the landscape of the water? Did I ever properly observe water?
Nigel Wells, who is building Flowforms in his Atelié in Järna made us aware of many characteristics of the water, that we hadn't noticed yet. We started by building a canal and found out that upstream of every big wave there are a few smaller waves. We added obstacles, dug deeper holes into the river bed and watched, indicated by ink, fast moving, standing and back-flowing water. Many rivers have been straightened in the last century to allow reliable shipping without sudden occurrence of new sandbanks. How does this influence the ecosystem? Nutrients are not being carried back to the land as in a meandric river form, but flow straight into the sea which leads to several new challenges. In our meandric clay model the small particles of clay showed that there are different layers of water moving at different speeds. Water is not just one big mass.
In the afternoon the workshop continued with different experiments. We saw that water doesn't just flow straight on a flat surface but in turns and twists, how a drop of ink splits up into smaller rotating bits and how hurricanes can lift objects. If you were there, you could have seen Yippies with eyes wide open whispering "Wow!" or shouting out "This is so cool!". Nigel also brought in science and talked about a fourth state of water and new research findings. Pointing at Nestlé company, he raised the question "Who owns water?" and later on compared the flow of water to the flow of money in a new economy. It is fascinating how Nigel interlinks different topics of his broad knowledge and helped us seeing a bigger picture. The story of how the Austrian Viktor Schauberger solved a problem by observing the movement of a water snake tells us that nature provides a lot of solutions, if we only see them. So go out, take a walk, feel, listen, observe!
Wild Foraging by Sakura Koga
Since the week back in Autumn when he gave a course on harvesting and preservation of food, the long-awaited wild foraging course by Oscar Rosengren started off with an overnight camping trip at a small island across the fjord. Oscar is a chef, farmer and entrepreneur, who recently opened his own restaurant in Järna. Smell of flowers and green earth swirled up with the smoke from the fire as we start creating a big "kitchen" in the wild. After Oscar led us through the woods pointing out many kinds of edible plants, we cooked up a big feast on the fire using the plants we foraged. Some went fishing and brought back some shimmering herrings which was also grilled with fire until crispy. For many of us, this experience of creative cooking in the wild was the highlight of the week. We had a relaxing afternoon digesting the delicious feast and exploring around the island foraging for dinner. We finished off the day surrounding a campfire, jamming and sharing stories.
On wednesday, we explored the plants around our YIP campus, filled with spring flowers and bright greens. We came back with buckets of wild flowers, herbs and spruce shoots to make into tea and syrup. Later in the day, Oscar introduced us to the umami flavour with his homemade miso and kouji (Japanese fermentation culture), followed by smoked and pickled onions and fermented black garlic.
On thursday we spent the whole day at Under Tellarna, a local community/farm. We took a walk focusing on the medicinal plants we can find in nature and made some ointment from pine sap we collected during our walk. Oscar shared a movie "Inhabit" to close the course, which brought us hope and new perspective in permaculture. After his hands-on, learning by doing course, we go to collect wild garlic and nettles for dinner, dandelions and spruce shoots for tea and syrup on a daily bases. We will definitely continue to explore the world of wild foraging and exploring flavours from nature.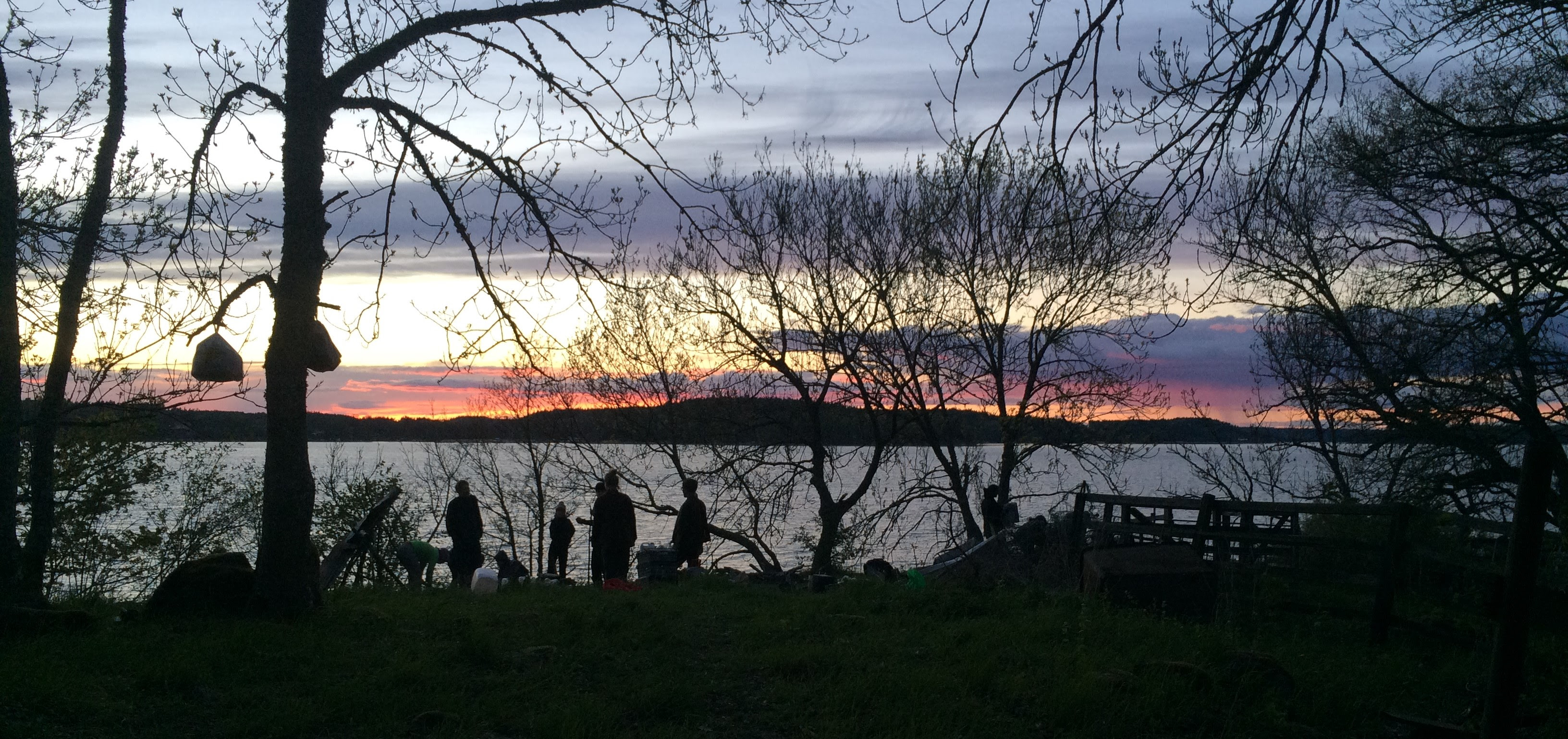 Street Poets by Jim Howard
Frank Escamilla and Jaynese Poole hosted us on behalf of Street Poets Inc, all the way from Los Angeles, California. Street Poets are an organisation that use poetry, writing, initiation and circle council to bring healing and growth to youth across LA and the world.
But really, they both showed up in their own right, bringing their own wisdom and light to YIP9. Although the course is called "Street Poets", it should really be called "Frank and Jay" or "Jay and Frank", or "Bus Stop and Ladybug" (their poetry aliases).
The format of the week was deceptively simple. Throughout the week, we were fed portions of a story – about a young person called "half-boy" (or "half-girl") through his/her metaphorical journey to finding wholeness –which gave the impulse and inspiration for 15 minutes of writing. These 15 minutes, although short, were able to draw out truth, creativity and vulnerability from the group. Whilst later sharing our writing in circle, Frank would say "The floor's open… who's next?"
Each sharing seemed to blow everyone away and progressively throughout the week, as our barriers quickly dissolved, we got to see a different side to everyone. Real, raw and authentic.
At the end of the week, with the help of YIP OTs, current Yippies and Alumni, we took part in an initiation – a rite of passage – with the invitation to die to something old in us, to give room for the new to be born. An incredibly powerful and meaningful process, held by the community, which gave many people an opportunity for a transformation that was ripe.
Perhaps flavoured by the end of YIP drawing ever closer, they brought exactly what was needed for the group, a testament to their ability to sense into the needs of those around them. Teachers, mentors and friends. Brother, sister and fellows in the Work – a few words I would use to describe their relationship to us all.
Project: Building a top-bar beehive by Lucilla Agostini
"As I applied for YIP, one of the things that were already quite settled in my mind was the topic of my personal project. For some reason, I knew that I wanted to challenge myself building a beehive from scratch. It seemed to be a logical next step in my learning journey in the bee world which started 10 years ago, as my father was convinced by a friend to get 4 beehives and place them in our garden. What I didn't know about this project was what such an apparently simple plan would actually entail! It took me 9 months to slowly and not always smoothly pull that idea down from the cloud of my thoughts and carefully ease it down into a 430x600x400mm wooden box that is now standing under a blossoming cherry tree in front of Tallevana.
What was most surprising it how much simple sentence as "I am building a beehive" changed its meaning to me over the last months. The first thing I learned is that it would be much more accurate to say "we are building a beehive", as alone I wouldn't have been able to go much further that saying the sentence "I am building a beehive". Coming to the word "building", I can just smile as I think back at all the times I was rather fighting with two sections of the hive that wouldn't fit into each other, a saw in my right hand, a hammer in my pocket. Of course, I would then realize I had made a mistake in the measurements, so I had to find a way to add the 3 missing centimetres of wood to the plank in front of me (which can be very tricky when it comes to wood!). Eventually there is just the word "beehive" echoing in the air. I learned that this word is just the door to a world which was created by the contribution of many different cultures in history.
If I repeat the sentence one last time and try to go beyond the meaning of the words I can see a deeper layer: "I am building a beehive" becomes "I am turning my idea into reality, I am taking initiative".
Personal Project Presentations by Manal
I will let my heart speak, because during this week I was listening from my heart.
This week was a week with many learnings for me and each presentation was very educational.
We started the week with my presentation: Refugee: Where, Why, When, Who, How.
I was carrying the topic of Refugee with me for the whole year.
We gathered in the morning at nine o'clock, I asked if we could have a circle instead of the speaker facing audience set up of the room, I wanted everyone to hold the space and the topic with me.
I shared how it was for me to learn what the word refugee means to me and the world, when my 45 minutes where over the next presentation started. Then the next one and the next one. With every topic I heard that there was a huge story behind it, some of the topics were really personal and it was so beautiful how the people opened up like a flower in the spring. I had tears, goosebumps or a big smile after each single presentation. Every presentation was full of light, confidence, honesty, creativity, and love for what they were presenting. I was surprised by some presentations because of the power our words have.
At the end of every day we made two circles. The people who presented sat inside of the big circle and Rembert, one of the OTs who was hosting the week, was calling out each name and the topic and we would breath in and out together to feel relief. I think for some the work on their project will go on and maybe for some it was a learning process. I am one of them. We ended the week with Kristel and her topic What I have been doing. It was so beautiful sweet and creative.
I feel there is not enough words to describe this week. It was amazing to see everyone standing there in front of the audience speaking about what they have done, then being open for questions and answering them with an open heart and in such an honest way. They were personal projects or initiatives, but I felt that I learned so much with each one in these 45 minutes. I felt really honoured to be witnessing. Finally I would like to say to all the Yippies incase I haven't already said it, you are incredibly amazing. I am moved by your braveness and your confidence and I received so much power from your words.
Outdoor experience by Jonna König
The year is coming to an end and to me everything came together Outdoor Experience. We- us Yippies, Sophie, Inte, Chris and Silas- left Ytterjärna on a sunny Sunday morning and had a lovely day of driving in the rain. The first two days in the northernness where hard. It was wet and cold. I was so happy that we had our little camp in the midst of wooden huts that we could use as a dry place if needed. But soon the place revealed something new. Northern beauty. The days to come where warm, sunny and full of mosquitos, the only reminder that we weren't quite in heaven yet. We spent our days outside, taking baths in the stream, making wooden spoons and preparing our solo experience.
The solo experience itself was something very special to me and I think to many of us. I sat on a little hill looking down on a swamp lake and the forest behind. I only had a tarp to shelter me, enough water for 36 hours and warm clothes.
For the course of time I basically did nothing. I just sat leaning on my tree or lying under my tarp. I felt entirely peaceful and safe. I knew that not far from me where three amazing people that kept the campfire burning and would be there if anything went wrong. I knew that I was part of something bigger and that my existence actually didn't really matter that much to the place I was at. Ants, birds and trees could do well without me and my only task was to not disturb their lives in an unnecessary way. I could just sit there and watch the sun moving. I saw ants gathering wood and birds chasing each other. I saw the sun rise and set. I saw rain coming and going. And I was a part of it. Without seeing any bigger animal, I still knew they were there. But not seeing them didn't matter, because we belonged to the same place.
I didn't actively think too much. I just watched my thoughts and felt my existence. I felt a peace and ease I didn't know before. Also joy at times. The simple joy of being. If I had died in that moment it would have been fine.
I think in was this time, just sitting, fasting, being that moved some things into place inside of me. Looking back it seems as if the puzzle pieces of my whole yip year were put together to one big beautiful picture that made sense. And in that picture I can see myself in a clear and definite way.
Being back now and in the process of cleaning Tallevana , I just have to be silent for a moment and think of my little spot and immediately I can feel this deep and full feeling inside of me that assures me of who I am. I would like to especially thank Inte, Chris and Silas for this week. It was incredible.
---
How We Will Forum 2017
You are all warmly invited for the "How We Will Forum 2017" in Los Angeles hosted by YIP Alumni Daniel Evaeus and Bruna Viapiana.
Our dear contributors Orland Bishop and Nicanor Perlas will be there to share their experience of community building and systemic change through Threefolding.
At a time when the world at large is facing more and more challenges but lacking a coherent path toward healthy social systems, the forum will prepare participants to bring change to their communities now.
Curious? Learn more at howwewill.blog or www.facebook.com/HowWeWill/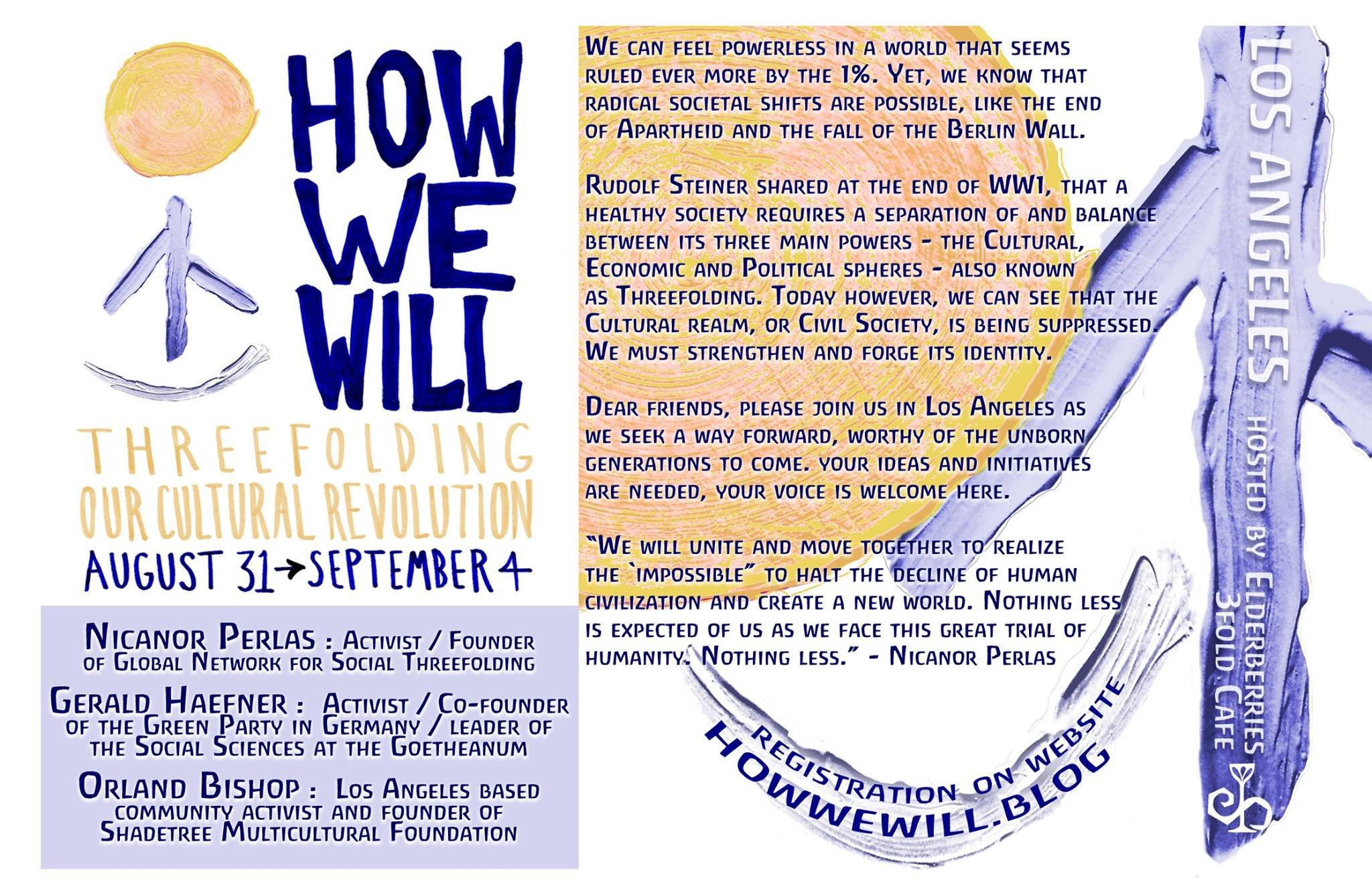 ---
YIP Alumni: HOMEBOUND, the project created by Inte & Christianne
Do you know the rhythm of your surroundings?
Do you know the rhythm of your surroundings?
Do you hear the beat of your heart?
And most of all – Do you listen?
After working together, organizing the Outdoor Experience of YIP for the last 2 years, Christianne and Inte have now started HOMEBOUND – a platform that offers joyful and accessible explorations into (re)connecting with our natural home. We invite people to join us on a journey into the non-judgemental but straightforward outdoors where we live communally with each other and the land. We give our time to learn traditional outdoor-living skills as well as to explore the collective wisdom of the group as we dive into the questions that we bring. The journeys and events are created through dynamic partnerships with different people and their work – which contributes to the unique nature of each experience.
Dalarna, Sweden, where we will focus on the theme of the Feminine and the Masculine. Find out more about the trip or how to sign up on www.homeboundjourneys.com.