The locals speak of September as the month of a 'second summer', and the late afternoon sunlight streaming through the YIP office windows agrees. Wasps buzz lazily on a light breeze, the apples are all red now and hanging ripe, and the yippies are gathered in the Vita Huset main hall for their final workshop of the day. The weather has been cloudy and dreary one day, sunny and gentle the next. We hope it will hold.
The atmosphere in Ytterjärna reflects the new season, as holidays have ended and buildings team with students of a variety of courses, the fika room is alive with conversation and the Kulturhuset's stage is once again filled with music. Anyone who has been in the fjord recently can tell you that the water is much cooler than even a few weeks ago, and the evenings are getting darker. Autumn is descending in a gentle, loving way.
---
Welcoming YIP9
The two weeks have been a torrent of arrivals, meetings, meals, talks, walks and planting the seeds of a new life together. On Sunday August 28 we held a beautiful opening ceremony for YIP9, in which the community, alumni, past contributors and other friends gathered to welcome 23 fresh faces. There were songs and tears and a "crossing the threshold" ritual, flowers and hugs were exchanged and the yippies were each welcomed one by one by the larger YIP community. After formalities we all sat around a fire and ate a delicious meal cooked by YIP alumni. It was a beautiful day.
Here are some fresh faces for you all!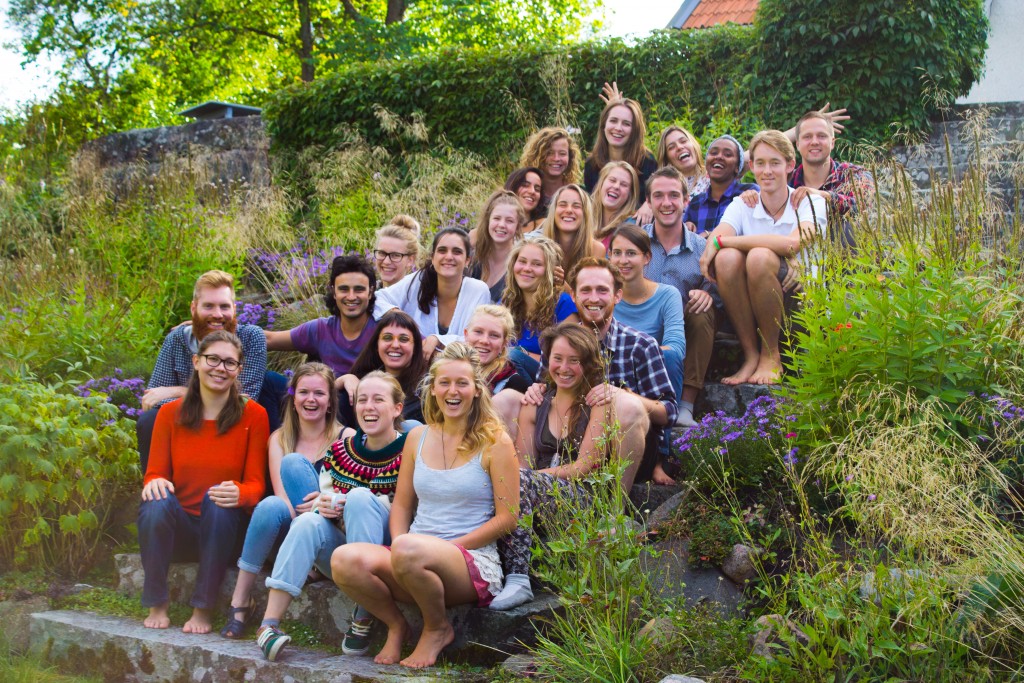 Back to front, left to right: Claire, Myrian, Manal, Arne, Petri, Amber, Carla, Liam, Triana, Joceline, Marieke, Eva, Teresa, Jonna-Marie, Lucilla, Stef (OT), Paolo, Jim, Popp, Grace, Kristel, Kathrin, Freya, Rebeca, Sophie (OT).
Our heart and minds go out to those yippies still trying to sort out visa challenges or sitting exams. We look forward to welcoming them to Ytterjärna as soon as possible. Those who are here already have done a wonderful job reaching out to those not yet arrived. Those not pictured: Fraselet, Patrice, Praew and Sakura.
---
What's on for September
The landing week
The first week of YIP is always a slightly floaty time. Many have not yet truly landed, everyone is getting used to each other and there is so much talk about what YIP will be, rather than actually doing it. Things were off to a great start with a walk through the gorgeous Ekoleden trail, undaunted by the heavy morning rain. Picking blueberries, casting our gaze over the land that was once the Baltic sea, learning about the loving philosophy of Skilleby Trädgård, wandering the grounds of Skillebyholm, quietly contemplating the year with a letter to our future selves over the mirror-waters at Kärleksudde (Small Peninsula of Love) and ending in a pleasant, chatty walk home was the perfect way to begin to get a feel for the place and each other. The following days were a rush of sharing circles, a treasure hunt (for prizes such as a lesson on how to use the laundry) introductions to local organisations, house meetings, community meetings and much more.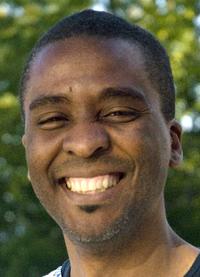 Now we are already half way through the first week of lessons. Edgard challenges us to play beyond our self-imposed rules, to dare to dream outside of the ordinary and find beauty where we might not expect it. He argues that finding beauty in those around us, and fostering and caring for that beauty gives a first step to solving problems. He shows the face of a man in strife and the face of another with his eyes cast skyward, contemplating what his dream in life is.
"Who do you want by your side when you go to change the world?"
Not only those we work with, but those we work for. Those we work for could become those we work with. We have seen a small kindergarten project designed to serve 30 children inspire an entire community, including council support to build three permanent structures for a Waldorf school. We've danced and sung and overcome our expectations. And we're only half way.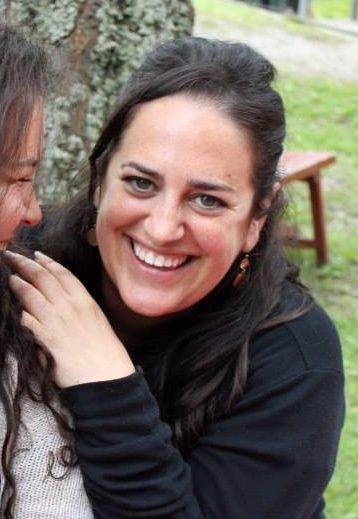 Next week we will look at our place with new eyes. In part to strengthen the growing connection YIP9 has to this land, in part as preparation to welcome guests we're sure to meet this year, and in part to develop new place making skills. The course offers, "…deeper understanding of the politics of place and offers tools for analysing the spaces we experience and build skills for social justice organising."
Kiara works with the "root shock" concept – most plants when uprooted can regrow and thrive in new soil, provided that the soil is prepared properly. The same goes for communities who have been uprooted or experienced trauma in some way. Simply providing a new space to occupy may not be enough, but careful preparation and a process of reconnecting to place can work wonders. Kiara is also a long-time friend of YIP, and we look forward to welcoming her back to Ytterjärna.
The Art of Hosting with Rachel Derrah, Vishal Jodhani & others
The Art of Hosting is a way of harnessing the collective wisdom and self-organising capacity of groups of any size. Based on the assumption that people give their energy and lend their resources to what matters most to them – in work as in life – the Art of Hosting blends a suite of powerful conversational processes to invite people to step in and take charge of the challenges facing them.
The Art of Hosting offers a blend of methods to create open and meaningful conversation that leads to commitment. Anyone who plants a garden is planning for results.  Whether the result is a fruit or a flower, a gardener is planning for a harvest. In the same way, anyone who plans to host a meeting also wants to get a good result from their efforts.  In this case, the harvest might be in the form of a project plan, or an agreement to action or a better relationship.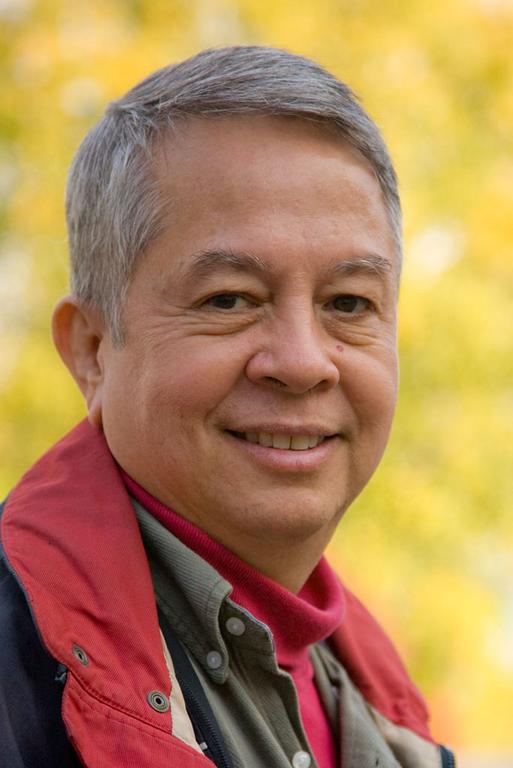 Nicanor Perlas joins us in the last week of September to delve into the sometimes confronting world of technology. Nicanor addresses technology on a very human level – what is consciousness and can machine thought approach something similar? Where is humanity heading in the future? As we know, the development of new technologies moves faster now than ever before, what are the consequences if the speed of development goes beyond our human capacity to keep up?
These driving questions have for many years galvanised a response from yippies, and are rising in urgency in international organisations globally. A past version of the course is directly responsible for Moral Technologies, a 3 year project in Australia.
Nicanor also brings YIP9 its first open course for the year, though it is not the only first that will arrive this week. A number of YIP alumni have organised to run a parallel course, which will bring the most members of the YIP network together there has been outside Initiative Forum. We look forward with much anticipation and gentle excitement to see where this will take us.
---
YIP belongs to the yippies
I am privileged to be the editor of the YIP newsletter, and even write much of the content, but the true voice of YIP belongs to the yippies. Here you may find their thoughts, reflections and hopes from YIP9 so far.
Jonna-Marie
How do you describe the arrival to something called YIP?
I arrived in my new home in Ytterjarna quite early, four days before the opening. And yes, although I've just been here five days now, I can say it's a home to me already. Arriving here was wonderful. The organising team welcomed me in such a warm way that I felt that I was really wanted and accepted here. It's hard to condense what actually makes being here so lovely. Just through being part of the program I have the feeling that I am part of something bigger. A community that is somewhat different from others, where the people are open, loving and knowing. They all seem to know what's going to happen to me and it's just me that is nervous, excited and maybe a bit unsure about what to feel. The opening ceremony really was like an initiation into this awesome journey that we youngsters are about to begin.
We heard this story about potatoes, eggs and coffee beans, who all went through the same hardship of boiling water. They either turned soft, hard or changed the hardship into, well, coffee. Since I think coffee is the most undrinkable beverage I had my struggles with this metaphor, but I will just try to imagine coffee to be something nice and tasty, that I actually would like to create.
So I guess, as far as I understood, this year is about being a coffee bean. Or, moreover, becoming a coffee bean. And besides the taste thing, this does make me a bit nervous, it seems to be such an important and mighty thing, but I know that there are five amazing attendants and 28 companions who will go through this year with me.
And those 28 companions are the reason why I am sacrificing my precious sleep right now and picked up the pen.
I have this great room, all by myself (lucky me, I know) and right outside my room there's a fire. And around that fire young searchers are sitting. Just like me. I can hear Poppy's warm and cordial laugh that I already love so much, Liam's deep and melodious voice, Paolo's dreaming speech and the crackling of the fire. I am not following their conversation, but just knowing that they share my desires, my dreams, many of my values, and the following year with me, gives me such a warm feeling. I am not a part of their fire-circle, but I feel connected with them. They are my fellow Yippies, I am a part of them. Can you imagine the joy of feeling this? I am not quite sure yet what YIP actually is, but I am keen to find out. And I know I have people with me, who want this to work. Who want this to be special. Who are willing to give themselves.
So I guess that's how it is to arrive in YIP. It's a mixture of a thousand feelings, wonderful people and the knowledge that though being intense and hard at times, this year is going to be great.
Myrian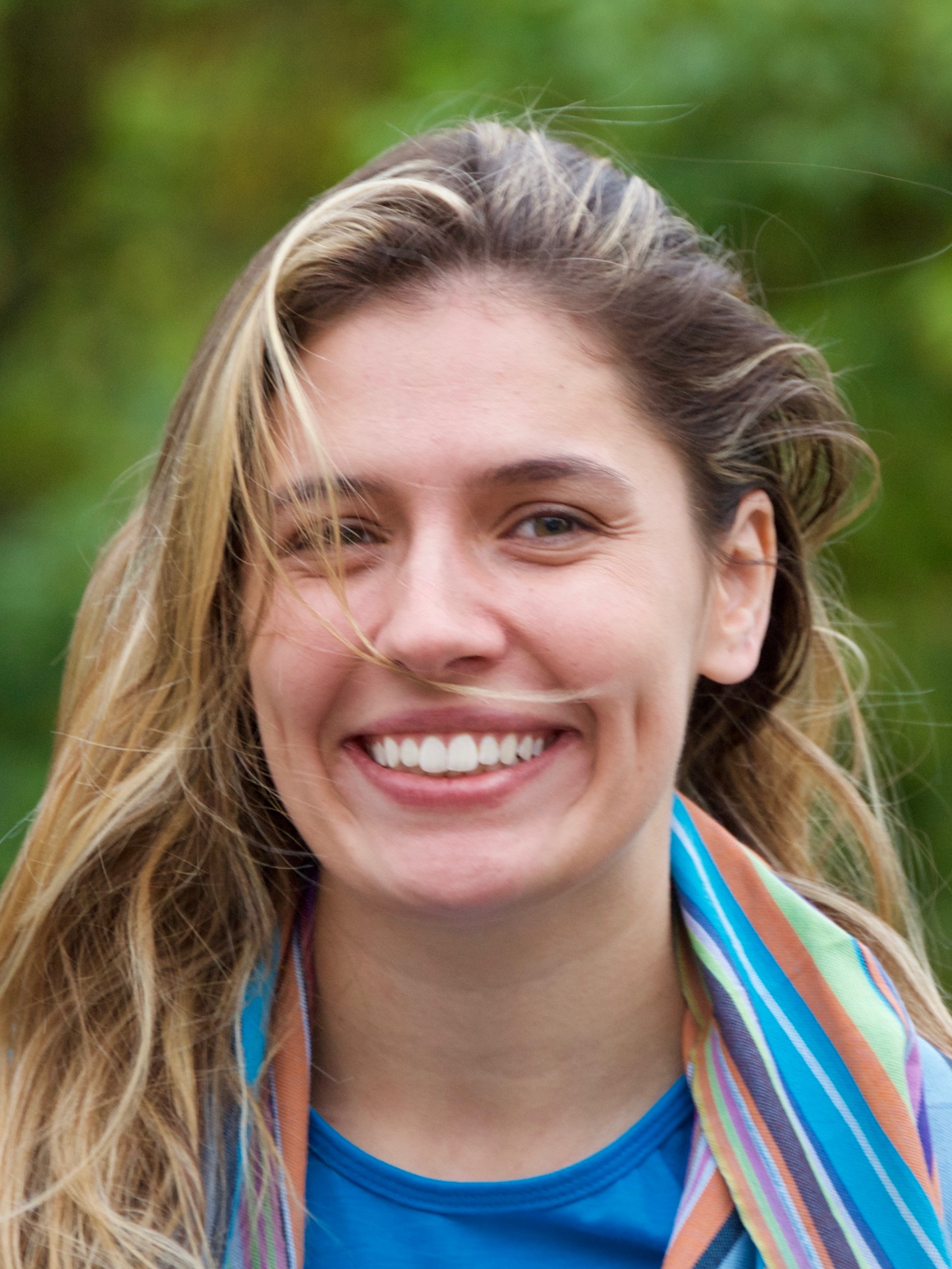 Bus 784. I received the very expected letter. It could be a Harry Potter book if it wasn't real, but it is. 17 nationalities, 23 people waiting for another 4 about to join in this team of superpowerful young guys that is now living their full potential and being the change that they want for this world.
After a warming reception, even feeling a little bit lost, I grab a cup of tea while suddenly someone starts to play beautifully on the piano, and we start to sing a song as one, about the Earth, which tunes our hearts that now live in the same place: Tallevana. Birds, gardens, a pirate school and a lake where we can still contemplate the sunrise and the sunset and paths with little rocks that show the way to the places where we have our banquets and learnings. While time passes, the apples go red and start to fall as our leaves, while winter is coming, we fill our bodies and souls with questions, learnings and solutions. YIP has already started, and something huge is about to come. The world needs changes and they have to start now.
At the first week I started to know more about myself and about the others, about my boundaries and about my needs and also to listen the needs of others. I began to really see who passes through me, to know my neighbors, their talents, their histories; to understand what it means to live in community, and all this being part of the process of changing the world. My personal impression about now, that overflows the boundaries of these texts, is that here I can really improve my talents and abilities to contribute more with what I have been doing in Brazil and somehow to impact more, build a better education and also create new things and look for different perspectives.
It is not just about the countries that we came from but our histories and the new history that we are building together. And when we live together it goes to another level, and this is one question for now: how would representative global leaders that defend their country's interests act if they lived, studied and ate together?
But how does it change the world and how is it related to magic? You may ask.
The magic we are doing here for now is opening space to create new realities and learn how to really take action to build this new world (starting with ourselves) and to do it now. It is just the beginning as a drop in the lake that resound and impact not just our present and future, but spreads and invites others to play this real magic game of living together in the same house called Earth.
Carla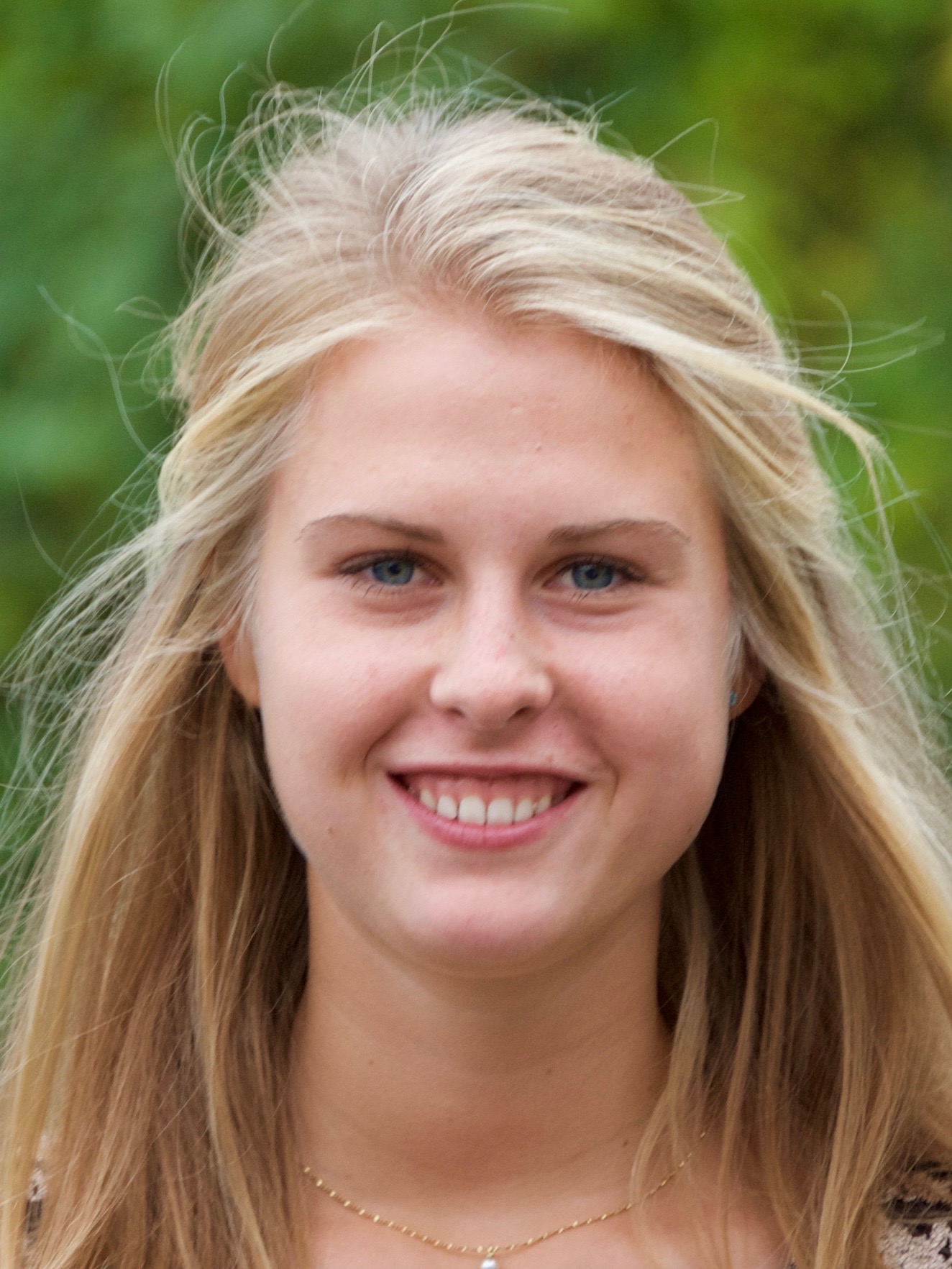 I am sure the expectations for YIP9 are as different as the personalities that participate in this particular program. Every expectation arises from a different story that has shaped the participant to what he is now in YIP – journey's beginning.
I would like to introduce my background to you so that you are able to see my expectation. I have never invented my own initiative nor taken the full responsibility for one. I don't know for what I want to fight or what my values are. I always want to make things perfect from the first step on. Therefore, I have never made a serious mistake, but also not risked anything.
I am overstrained by thinking about all the big global challenges. I fear to go out of my comfort zone or to run out of money. I don't have the will to cross over the blockades that hold myself back from taking initiative.
Now I am sitting here at YIP. The first week has passed with visits to several initiatives. Every time standing before a person that lives for his certain invention, I admire this person. But at the same time my head is full of doubts. Does he investigate his time for the right thing? How can he hold this initiative while knowing that there could always come burdens in his way?
These thoughts characterize me. That's me, that's Carla Tischer. Carla Tischer fears the ice cream in her hands falling down instead of being happy to enjoy this delicious sweet.
In my time at YIP9 I expect from myself to be aware of my future pessimistic thinking. I want to realize these thoughts in an honest way. Simultaneously, I want myself to step over this burden and to take off in insecure skies. I believe that honestly realizing your blockades is the best way to surmount them.
Henceforward the question arises what my initiative is about. Therefore, I will first define my values. Then, I will find out what my personal forces are. Afterwards, I will recognize for what I want to fight. I will create my own initiative that involves my strengths. Finally, I will fulfill my initiative by putting all my will and effort into it.
Summarized in one sentence, my expectation for the time at YIP9 is, "I dare to find my hidden force and use it while accepting the fear and possibility to fail."
---
YIP means more than YIP9
Far extending what is currently happening in Ytterjärna , YIP reaches all corners of the earth. We here would love to hear input from the wider YIP network, their initiatives and actions in the world. This space of the newsletter will be dedicated to further afield stories and initiatives. Please contact me at [email protected] if you have something to share with the broader community of YIP alumni, family and friends.

We shall leave you now with love in our hearts, a song on our lips and a dream in our heads. So begins YIP.