A Day at YIP
Schedule
A generic week at the International Youth Initiative Program. Deviations will occur in some weeks but generally this is what you can expect.

The Courses at YIP stand as the core of the program and are predominantly held by external contributors for a period of one week at a time. Some weeks are facilitated by the YIP coordinators.
In the afternoons there is scheduled time for Individual Project, Community Engagements, Arts, working with International internships, organising Initiative Forum, Sports and our weekly Community Meeting and Check-in's in smaller groups.
Two courses that will be offered in the afternoon this year (2015-2016) 
1. A course with Rachel Miller: Paper and Cloth Mache course
Very simply this is a paper mache course. The idea is to either as a group decide to sculpt monsters, people, animals or birds or another theme that we can all agree on.  the intention is to work independently towards a group result! this course will invite the alchemy of transformation;  from trash to art, from small to the collective, from awkward to awesome.   come with an engaged mind, an open heart, willing hands and together we can magic! – Rachel Miller 
2. A course with Vini Ferez and Regula Nilo: Eurythmy, People want to move and want to be moved.
Eurythmy makes use of these forces behind development, of those living and creative forces of movement. Through eurythmy the physical, emotional and spiritual potential of the human being can be fed.
Performing eurythmy makes the creative forces behind music and language visible. We, Vinicius Ferez and Regula Nilo would like the participants to experience what effects of eurythmy could be for themselves.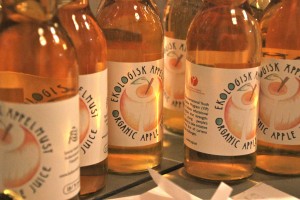 A project we will do together: YIP – Apple Juice 
It has become a tradition which we would love to continue in YIP8. The apple trees are full of apples when you will arrive in September. Our task is to make use of the apples, and we do this in the following way. First of all we pick them, over the course of 4 to 5 weeks, then we bring them to the apple press and make delicious juice that we then sell, to the local cafe and during own organised events.
Evening Activities
In the evenings the space is open for a more free range of activities. There can be sports, cultural events, house meetings and/or anything else that wants to happen.